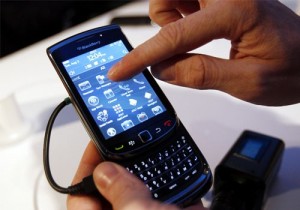 [Updated] Both Digicel and CellularOne today announced they will be carrying the new BlackBerry® Torch™ 9800 smartphone, which is expected to be available in Bermuda next week. Both companies says pricing will be made available closer to its arrival.
It's the world's first smartphone to combine a BlackBerry® QWERTY keyboard with a full touch screen experience and the first to feature the new BlackBerry® 6 operating system.
"The BlackBerry Torch brings together all of the features customers expect from a BlackBerry smartphone into one unique smartphone," says CellularOne Chief Operating Officer Frank Amaral. "The slider design, the BlackBerry 6 OS with its new user interface, the full touch screen experience and enhanced messaging and multimedia capabilities, have got customers extremely excited. Bermuda's been awaiting the arrival of the BlackBerry Torch and CellularOne is more than pleased to launch it on the island's premier 3G network."
Digicel Bermuda CEO, Wayne Caines, said: "Digicel prides itself on making sure that our customers have access to the latest in innovation and technology and we are delighted to announce the addition of the BlackBerry Torch to our wide range of handsets. Our customers rely on us to ensure that they remain at the cutting edge of technology and – through our suite of competitive price plans – they also get the best value for their money. Now we're giving more people than ever before the chance to join the BlackBerry revolution. We expect to have the device available for sale in our stores next week and we will announce our pricing at the same time."
The new BlackBerry Torch features an exciting combination of a large touch screen and optical trackpad with a backlit slide-out BlackBerry keyboard. It offers support for high-speed 3G UMTS/HSDPA networks around the world and includes the latest generation in Wi-Fi® (b/g/n) connectivity. Its 5 MP camera takes exceptional pictures with flash, continuous auto focus, image stabilization, scene modes and zoom, and it also supports video recording. In addition, it comes with a combined 8 GB of media storage out-of-the-box, and includes a microSD/SDHD memory card slot that can bring the total storage memory to 36 GB for customers that want more.
The BlackBerry Torch is the first to launch with BlackBerry 6, a new operating system that delivers a fresh, approachable and engaging experience that's powerful and easy to use. It has a new and rich browser that renders HTML web pages (as well as HTML email) quickly and beautifully for a great browsing experience. The browser includes tabs for accessing multiple sites simultaneously, pinch to zoom, and an auto-wrap text zoom feature that can intelligently wrap text in a column while maintaining the placement of a page's key elements by simply double-tapping on the screen.
BlackBerry 6 features a redesigned interface that seamlessly works with the touch screen and trackpad, includes expanded messaging capabilities with intuitive features to simplify the management of social networking and RSS feeds (Social Feeds), and provides integrated access to BBM™ (BlackBerry® Messenger), Facebook®, Twitter™, MySpace™ and various messaging applications available on the BlackBerry Torch smartphone. A universal search feature allows users to search for content on the smartphone, as well as extend searches to the Internet or to discover applications on BlackBerry App World™, which is included and now supports credit card payments.
Read More About
Category: All, News, technology