International cricket star Brian Lara completed a practice round of golf today [Oct 17] at the Port Royal Golf Course. The legendary cricket player said the course played tough and he would be pleased to break 80; he's a five handicap golfer. Mr. Lara is in Bermuda for the PGA Grand Slam as a guest of Premier Dr Ewart Brown and the Bermuda Department of Tourism.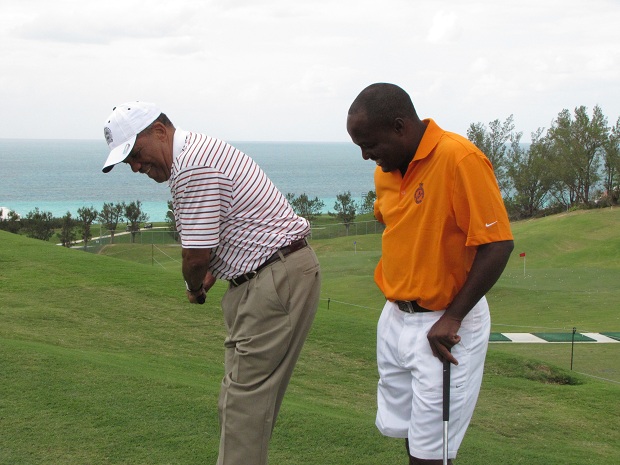 Considered one of the best all time West Indian cricketers, Brian Lara topped the test batting rankings on several occasions and holds several cricketing records, holds the record for the highest individual score in first-class cricket, with 501 not out for Warwickshire against Durham at Edgbaston in 1994, which is the only quintuple hundred in first-class cricket history. He is pictured below alongside the Premier and young cricket fans Jalen & Mia Lister.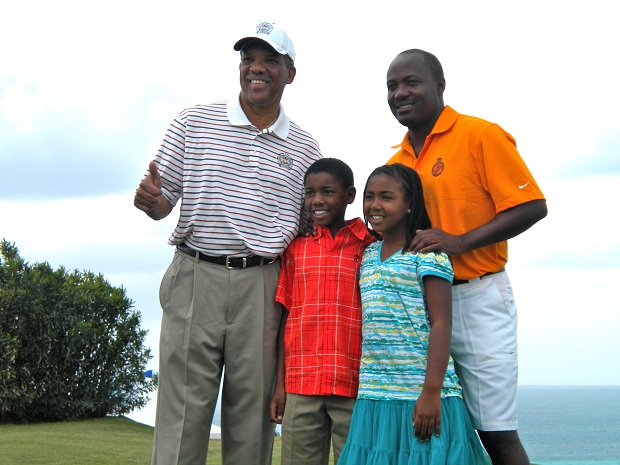 The Premier's full statement follows below:
Tomorrow, the 2010 PGA Grand Slam of Golf officially gets underway and as you can see around you, there has been a frenzy of activity as we prepare the Port Royal Golf course.

And I must say, the greens are looking magnificent and inviting!

Over the next three days, you will see 4 champions of golf compete for the coveted Grand Slam Trophy and the famous Pink Jacket.

I'm certain that locals and visitors alike will provide US Open Champion Graeme McDowell, PGA Champion Martin Kaymer, three-time major champion Ernie Els and 2001 PGA Champion David Toms a warm welcome.

But today, I'm also here to introduce another champion.

Legendary cricketer, Mr. Brian Lara.

Brian will be playing in tomorrow's Pro Am, and we're thrilled to host him for the Grand Slam of Golf.

Brian Lara is UNDOUBTEDLY the most recognized cricketer in the Caribbean region and one of the most respected in the world.

He has broken records and has thrilled thousands of cricket fans over the years.

Brian, once again, thanks for accepting my invitation to come to the Grand Slam. We are excited that you're here, and we hope you enjoy your time in Bermuda.

You have raised the level of interest in the PGA Grand Slam with your participation and we can't wait for you to see the wonderful spectacle that has been a part of Bermuda for the last three years.

Finally, I want to encourage all Bermudians not to miss out on this opportunity to attend this incredible, fan friendly golf tournament.

The Grand Slam will be broadcast worldwide and this is Bermuda's time to shine in the international golf spotlight, so I'm hoping to see as many residents as possible walking the fairways alongside our visiting champions.

Now I'd like to turn it over to Brian Lara, so he can say a couple of words.

Thank you.
Tickets for the Grand Slam will be sold at the admission gate, with the fee for daily admission $20. Tomorrow Brian Lara will play in a Pro-Am group featuring the Premier and Ernie Els, a cricket fan from South Africa and three-time major golf champion. The two-day tournament to crown the "Champion of Champions" is played Tuesday and Wednesday.
Read More About