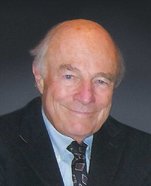 More than 300 people gathered last week to honor Robert Clements, an global insurance industry veteran and one the founding father of Bermuda's modern off-shore re/insurance sector, who died in September at the age of 77.
Bermuda re/insurance power players were among those who spoke during the memorial at New York's Waldorf-Astoria Hotel about how Mr. Clements influenced them since he joined the industry in 1957.
A "Business Insurance" report said the group included son John Clements and leaders of companies in which the elder Mr. Clements was involved: Peter Garvey of Integro Insurance Brokers Ltd., Dinos Iordanou of Arch Capital Group Ltd., Kevin Kelley and Mitch Blaser of Ironshore Inc., Brian Duperreault of Marsh & McLennan Cos. Inc., Evan G. Greenberg of ACE Ltd. and former XL Capital Ltd. executive Brian O'Hara.
Mr. Duperreault, president and CEO of MMC, described how Mr. Clements helped set up companies such as ACE in Bermuda, transforming not only the island but also the industry.
"I wouldn't have been chairman and CEO of ACE without Bob's genius," Mr. Duperreault said. "When I think about what I need to do at and for Marsh, I'm inspired by Bob. His influence will carry on for years."
Mr. O'Hara, former chairman and CEO of XL, another Bermuda company that Mr. Clements helped set up, said Mr. Clements taught him that the most important rule was the strength of the value proposition with the customer. "If you're living up to your promises better than the competition, your customers will see you through large losses in difficult times," Mr. O'Hara said according to the "Business Insurance" report.
Mr. Iordanou, chairman, president and CEO of Arch Capital Group, described Mr. Clements as a "college professor" type who rarely wore a tie and favoured a sports coat, corduroy pants and comfortable shoes.
Mr. Greenberg, CEO of ACE, said his company owed its growth from a single employee out of a hotel room in Bermuda to a 25-year-old global company to Mr. Clements. "It wouldn't have been possible if Bob hadn't thought outside the box," Mr. Greenberg said.
Mr. Kelley, CEO of Ironshore, pointed out that Mr. Clements left a "powerful impact" on the lives of many people.
"The last I looked, Bermuda was still overloaded with those that follow Bob—a sure sign of flattery," said Mr. Blaser, chief operating officer and chief financial officer of Ironshore Inc. and CEO of Ironshore's Bermuda office. He said that the last time they met, Mr. Clements asked him when he thought the market would turn.
John Clements, managing partner of Tara Partners Ltd., a private investment partnership that co-founded Integro Ltd. and Ironshore, recalled that his father once considered giving up insurance to open his own restaurant and become a chef.
"Fortunately, that's a venture that never got off the ground," he said.
Read More About