A new book chronicling how John Lennon reconnected with his creative muse in Bermuda in 1980 after making a voyage of self-discovery here is an essential addition to every Beatlemaniac's library, advance reviews say.
Ken Sharp author of the upcoming "Starting Over: The Making of John Lennon and Yoko Ono's Double Fantasy", interviewed dozens of people who spent time with the singer/songwriter/peace activist in the months leading up to the release of the final album issued during his lifetime.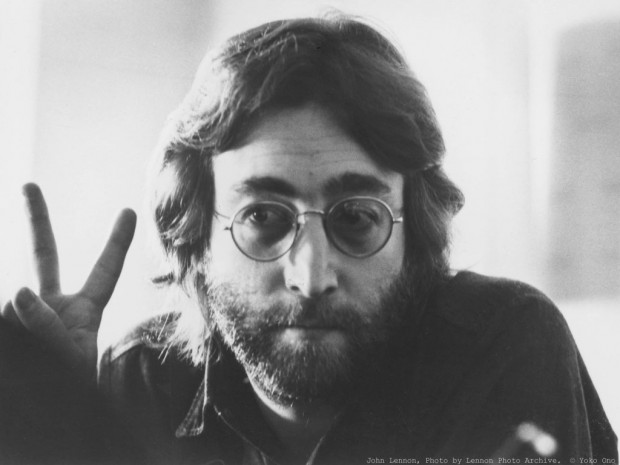 Among the Lennon collaborators, associates and insiders Sharp talked to was celebrated Bermudian drummer Andy Newmark , who coincidentally was on the island when Lennon spent time here. Mr. Newmark, who has played with such marquee acts as Sly & The Family Stone and Roxy Music, did not intrude on the former Beatle's privacy in Bermuda and was only recruited to play on "Double Fantasy" after both he and Lennon returned to New York: the Liverpudlian musician was delighted to later discover their shared Bermuda connection when they were in the recording studio.
Mr. Sharp credits Mr. Newmark with opening doors for him that might otherwise have remained closed during the course of his research for the book: "Andy really believed in me and helped introduce me to some folks that were reluctant to speak or hadn't spoken on record at all. He was able to convince them to speak to me."
"Double Fantasy" was recorded, mixed and released after the former Beatle composed a raft of new songs and completed a number of long-stalled works during a whirlwind burst of creativity in Bermuda.
Tragically, in December, 1980 40-year-old Lennon was murdered outside the Dakota, his landmark New York apartment house, by deranged fan Mark David Chapman just weeks after the album was released. The first single from "Double Fantasy" — "(Just Like) Starting Over", a celebration of the creative and spiritual renaissance Lennon experienced here — was sitting at number three in the US charts at the time. It immediately went to the number one spot where it remained ensconsed for the next five weeks
Lennon sailed to the island from Rhode Island aboard the 43-foot yacht "Megan Jaye" — jokingly noting in its log "There's no place like nowhere" while the vessel was Bermuda-bound. He rented a house in Fairylands for several weeks once the sloop arrived here.
While in Bermuda accompanied by his four-year-old son Sean, the former Beatle — who had not released an album of original material since "Walls And Bridges in 1974 — completed more than 20 songs. Some were entirely original compositions; others he had struggled with for years while contending with a debilitating case of writer's block.
Before his murder, Lennon credited both his ocean crossing and the time he spent in Bermuda with revitalising his creative energies. He explained to interviewers how he and wife Yoko Ono (who had stayed in New York to "take care of business" during his Bermuda interlude) collaborated over the phone while he was on the island.
Lennon said a night out at the old Disco 40 on Front Street — his first visit to a nightclub since the mid-1970s — exposed him to then-current musical styles. The mould-breaking reggae, punk and New Wave sounds reminded him of his wife's avante garde compositions and prompted Lennon to pick up his guitar again later the same evening.
"I was at a dance club one night in Bermuda," Lennon told "Rolling Stone" in an interview conducted just three days before he was shot to death. "Upstairs, they were playing disco, and downstairs, I suddenly heard 'Rock Lobster' by the B-52′s for the first time. Do you know it? It sounds just like Yoko's music, so I said to meself, 'It's time to get out the old axe and wake the wife up!' We wrote about 25 songs during those three weeks, and we've recorded enough for another album."
Lennon credited the stormy ocean crossing to Bermuda with galvanising him back into action after a protracted period as a "house-husband" in New York, raising Sean and focusing his creativity on baking bread.
"… Lennon survived a hellish Bermuda storm at sea," one authority on the singer/songwriter has said. "He clung to the rocking helm for a full day, finally bringing a battered sailboat safely to shore. His experience of challenging a stormy sea that threatened to capsize the 'Megan-Jaye' and take his life, changed him, in fact actually restored him.
"The storm churned up 20-foot swells while gale-force winds whipped the boat for two days, rocking it like a never-ending roller coaster ride. John was certain he was facing an untimely death at sea. At the end of the first day, the crew and captain were incapacitated by illness, forcing John to take the helm. He was amazed himself that he was still standing, attributing it to his macro-biotic diet of brown rice and miso soup. After being struck with severe panic, which he likened to stage-fright (a common ailment for him), he rose to the occasion, and steered the ship through the storm. 'Once I accepted the reality of the situation', John told assistant Fred Seaman after arriving in Bermuda, 'I lost my fear and began to enjoy the experience, singing and shouting old sea shanties in the face of the storm'.
"John told Fred that the last time he had felt so centered was in 1961 when the Beatles were playing to packed clubs in Hamburg and Liverpool. 'I knew then that nothing could stop me and that the Beatles would make it big sooner or later. It was the only time in my life that I felt truly in charge of my destiny'. Now John felt that he had once again grasped this feeling of personal power."
Ironically, a subsequent owner of the "Megan Jaye" arrived in Bermuda shortly after Lennon on another boat. He has attested to the life-changing impact bluewater sailing can have.
"I am the current owner of the 'Megan Jaye', now 'Jubilee'," Stephen S. Fuller has said. "I, too, was sailing to Bermuda in June 1980 on my own boat arriving shortly after John. Of course, I did not know of this coincidence until much later in 1998 when a reporter writing about John's transformation and rebirth as a result of this trip contacted me and came to Annapolis, Maryland to photograph the boat.
"Sailing has this impact. Having sailed almost 40,000 miles on the open ocean I can attest to the transformative effects that occur from the challenge of the sea, the weather, the darkness, the isolation, the danger. John experienced this challenge as all sailors do of being confronted by man's insignificance in the cosmos, a little speck on the vast open ocean and then surviving and regaining land; it is a powerful experience and it influenced John's creative power to write and capture these cosmic experiences in several of his last songs."
Lennon recorded the Bermuda-penned songs at New York's Hit Factory on returning to the US, producing enough material for two albums, "Double Fantasy" and "Milk & Honey", released posthumously in 19841.
"Double Fantasy" was a playful allusion to Lennon's relationship with wife Yoko Ono — and took its name from a Bermuda freesia Sean became enchanted with at the Botanical Gardens during a visit there with his father.
Lennon's creative rebirth has been comprehensively reported on in the past. But this month marks the 30th anniversary of "Double Fantasy's" release and there's been a resurgence of interest internationally in both the album and the time Lennon spent on the island. A Japanese journalist recently visited Bermuda to follow in Lennon's local footsteps, posting reports on both his favourite island haunts and the Double Fantasy freesia.
Aside from Ken Sharp's new oral history about the making of the album, a remastered version of "Double Fantasy" has also been released along with "Double Fantasy: Stripped Down", a two-CD set featuring the original material along with remixed versions of the songs.
The dozens of work-in-progress versions of Lennon's Bermuda output, recorded on a cassette recorder in the living room of the Fairylands home he rented, have long been available on-line. The Bermuda tapes include the acoustic version of "Watching the Wheels", the first song he completed the very night inspiration struck at the 40 Thieves Club, and the take of "Real Love" reworked by the three remaining Beatles for a one-off posthumous reunion in 1996.
Read More About
Category: All, Entertainment, Music