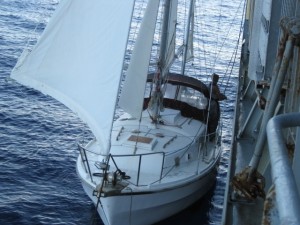 This morning [Jan 19] officials at the Bermuda Maritime Operations Center confirmed that the 31-foot yacht "Carefree IV" which has two Bermudians aboard has not been seen or heard from since Jan 3rd.
RCC Bermuda continue to re-evaluate the situation and are staying in communication with the US Coast Guard.
Bermudians Carlos Rogers, 41, and Kwesi Hollis, 36, left the Dominican Republic on December 1 on the 31-foot yacht, and had been due to arrive in Bermuda before Christmas.
The U.S. Coastguard C-130 aircraft had conducted an aerial search for the missing boat, covering an area of 19,000 square miles to the East and Southeast of Bermuda just before Christmas. In late December, a vessel from the Dominican Republic Navy division also searched for the two men.
On Monday 3rd January, RCC Bermuda received a report from the Master of the M/V Bay Ranger that they had been in VHF radio telephone contact with the S/V Carefree IV in position approximately 150 nautical miles southeast of Bermuda. The crew were safe and well, though tired and requested provisions and fresh water to continue their voyage to Bermuda, which M/V Bay Ranger provided.
Officials say that radio notices are still being broadcast to vessels leaving the island and vessels passing within a few hundred miles of Bermuda to keep a lookout for the missing vessel and report any sightings or communications back to the Bermuda Maritime Operations Center.
Read More About