As they have since the days of slavery, Bermuda's gombey troupes were out yesterday [Jan 1] to help celebrate the New Year.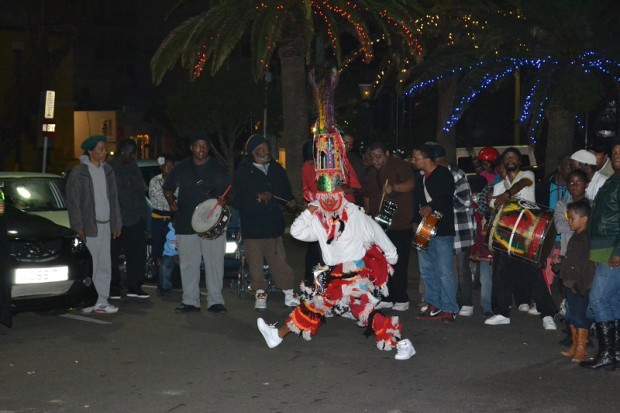 One of the earliest surviving written accounts of the Gombeys' Christmas activities dates from 1829. In a series of letters from the island collected in the book "Sketches of Bermuda", English abolitionist Susette Lloyd recorded her impressions of pre-Emancipation Bermuda, its inhabitants and its folkways.
She records being woken at the Paget home where she was staying during the Christmas period because "Negroes have just been dancing on the law; for in this season of general festivity, they are all permitted to indulge in the wildest mirth and revelry. The oldest among them participates with the child in the delights of their Gombey."
Before Emancipation, almost the only 'time off' that some Bermuda slaves had was the Christmas holiday. In "Chained on the Rock", historian Cyril Packwood: "Christmas was the time most looked forward to by slaves, because it meant a holiday lasting several days. … The highlight of the Christmas season was the colorful appearance and performance of the Gombays. … Since the Gombays accepted small gratuities…."
Long past Emancipation, in a radically changed Bermuda, the Gombeys and their costumes, the tradition of throwing money to the Gombeys, crowds dancing through neighbourhoods behind the Gombeys to the unmistakable beat of the drums, still survives.
The Warwick Gombeys performing in the Glebe Road/Derwent Lane area yesterday evening:
Member of the crowd joins in:
Richardson's Gombeys making their way through the Court Street area late on New Year's Day:
Read More About