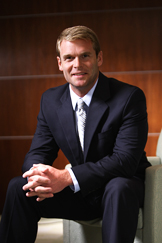 A quotation at the right moment is like bread in a famine, the scriptures say — in which case Bermuda resident David Bell has provided readers with a literary feast.
His new book "The Best Quotes on Business, Leadership and Life", containing words of wisdom Mr. Bell has picked up over the years as COO of Bermuda-based Allied World Assurance Co. Ltd., is being praised as a treasure chest of perceptive, inspirational and sometimes uproarious aphorisms.
Mr. Bell, a Montana native, says his book of quotations "has been an almost unconscious work-in-progress for more than 15 years" — but he was finally prompted to publish the volume to raise funds for his Grateful Nation Montana Inc.'s scholarship, tutoring and mentoring programme to "guide the children of service veterans killed in action toward a successful college experience."
Edited by his wife Brittany Bell, the book is being sold in Montana and is also available on Amazon.com and from the Grateful Nation Montana website.
Mr. Bell, who works out of re/insurer Allied World's Hamilton offices and is a board member of the University of Montana's Mansfield Centre for Asian studies and US-Asian relations, says he's jotted down the quotations from multiple sources over the years and "all reasonable efforts have been made to verify the fact and source" of each maxim used.
He is also soliciting submissions for future editions which can be sent to quotes@GratefulNationMontana.com
The book includes  remarks to from a wide range of historical and literary figures including Gandhi, Dr. Martin Luther King Jr. and Winston Churchill.
"As I have encountered these quotes over the years, I have found they have a unique ability to educate, enlighten and inspire," said Mr. Bell. "Whether spoken more than 200 years ago by the founding fathers of our country or by the political and business leaders of today, these quotes are memorable both in their power to persuade and because of their crisp, succinct nature. I hope they resonate in your life as much as they have in mine."
One critic's favourite comment in the book is attributed to former US President Ronald Reagan: "They say hard work never hurt anybody, but I say why take the chance."
All proceeds from the sale of this book are donated to the Grateful Nation Scholarship Fund, which helps to pay for the college education of children of American soldiers who have been killed in combat.
Read More About