[Updated] Hair fell and over $400,000 was raised last night [Mar.18], as residents had their heads shaved to raise money for the St. Baldrick's Foundation as friends, family and donors cheered them on at BAA.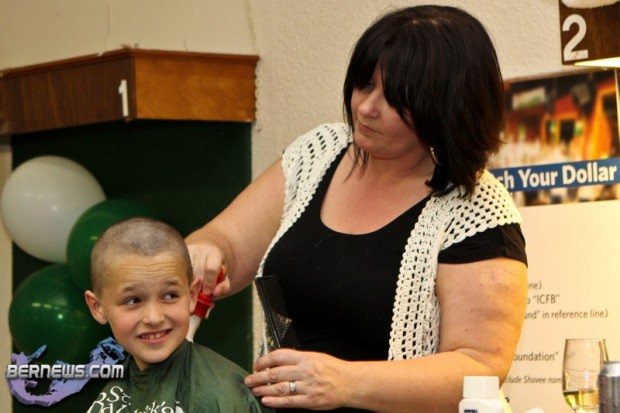 Stylists and barbers shaved volunteers' heads to raise money to support children's cancer research, and early estimates indicate that the event raised over $300,000.
The event organisers said they are honouring 9-year old Teddy, who was diagnosed in November 2009 with a rare and aggressive cancer, undifferentiated sarcoma, and died in August 2010.
Organisers said, "Teddy's cancer was so rare and so aggressive that traditional, standard chemotherapy had little effect on it. Our hope, moving forward, is that thanks to St. Baldrick's money raised, doctors and researchers will be able to pinpoint new, more effective targeted therapies so that no child has to endure what Teddy did, and that every child with cancer — no matter how rare — has a good chance of surviving and leading a long and meaningful life."
A spokesperson said, "St. Baldrick's was founded in 2000. In 2002, the very first international event was held here in Bermuda. Since then, Bermuda has been the top-earning head-shaving event in the world. This year, there are 830 events worldwide and Bermuda has, so far, brought in more donations than any of them."
"This year there are a total of 32,627 shavees worldwide who have, so far, raised more than $12.9 million. We will have a better idea of 2011 totals on and/or after the event takes place on Friday. Just last week, the St. Baldrick's Foundation hit a major milestone – raising $100 million for children's cancer research since 2000."
Update: Organisers say that so far, in online fundraising, Bermuda has made $406,833.43, a number that is expected to raise as  some donations will be matched by various businesses.
St. Baldrick's but it was founded in 2000 by 3 reinsurance executives who were working in NYC at the time. Two years later, they established their very first international event in Bermuda and ever since, Bermuda has been the top earning event in the world year after year. Out of 830 head-shaving events in the world this year, Bermuda was once again, the top earner.
There is still time to donate to St. Baldrick's online at www.stbaldricks.org – just search for the Bermuda event and pick a shavee to support. And you can sign up for next year too by going to the website and signing up/
Photos by Only the Best, click to enlarge:
Read More About