Last night [Apr.23] Fight Night XII took place at Berkeley Gymnasium, and a number of fights took place including the Women's World Muay Thai Federation Continental Title Bout.
Jerun Gunness won the first boxing fight of the night when he defeated Marc Lonergan. Shaun Richards then defeated David McHugh, and Khalid Pitcher won his boxing match over James Cartwright. Chris Wilson defeated Ben Ensall, and Jashaun Thomas defeated Cody Adair.
The action then switched to K-1 kickboxing, where Deondre Morris defeated Shannon Ford, before 16-year-old Samir Furqan defeated his Canadian opponent Shayne Dejarden. Daniel Kechecho-Best, also from Canada, defeated John Mirasol, and Robert Thomas defeated Reyel Bowen.
In the Women's World Muay Thai Federation Continental Title Bout, Ashley Nichols from Canada defeated Bermuda's Talia Iris.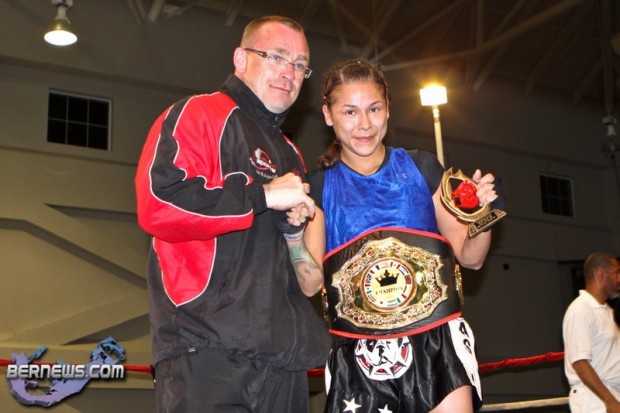 After the fight Ms Iris said, "This fight was an extremely tuff fight one of my tuffest thus far. I went out there with a positive attitude and performed to my best and gave it my all. She is a world class fighter and very experienced. I didn't know what to expect from my opponent I definitely did underestimate her I knew it was going to be a tuff match."
"I take away from this a great learning experience and a push to move forward with my training and also gain more experience. I gained a lot of respect from the MAS team and I have a lot of respect for them also. Being a female fighter in this sport is tuff especially here in Bermuda."
"Going forward I'll be continuing my training and getting ready for BSA's (Bermuda Sanshou Association) next thing. We will be traveling to Ankara,Turkey this year in October to compete in the World Wushu Championships. It will be my second time competing in this tournament. I look forward to it and will be training hard for it. The caliber of fighters in this tournament is always good and I also have a good idea what to expect," concluded Ms Iris.
In one of the last bouts of the evening, Bermuda's own Jermal Woolridge defeated Canadian Jeremy Hawkrigg.
Photos by Only the Best, click to enlarge:
Read More About