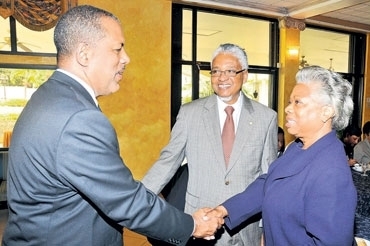 Bermuda's Education Minister Dame Jennifer Smith is introduced to University of West Indies [UWI] Professor Gordon Shirley by vice-chancellor Professor E. Nigel Harris [centre] yesterday [Apr. 26].
Dame Jennifer led a contingent from Bermuda which toured the Mona campus this week as the UWI and Bermudian educational institutions move to strengthen their collaborative relationships.
During the recent Budget Debate, Dame Jennifer told the House of Assembly: "You will be aware of the relationship established with the University of the West Indies.
"That relationship is to commence in the September, 2011 school year and we will soon be announcing the criteria for the UWI scholarship. This scholarship will be funded using existing scholarship funds and will be available to students who have completed the Bermuda College programme or who are pursuing a degree not available at the Bermuda College."
UWI is an autonomous regional institution supported by and serving 17 English-speaking countries and territories in the Caribbean. The aim of the university is to help "unlock the potential for economic and cultural growth" in the West Indies, thus allowing for improved regional autonomy. The University was originally instituted as an independent external college of the University of London.
The university consists of three campuses at Mona, Jamaica, Saint Augustine in Trinidad and Tobago and in Barbados. There are satellite campuses in Mount Hope, Trinidad and Tobago (Faculty of Medical Sciences) and Montego Bay, Jamaica, and a Centre for Hotel and Tourism Management in the Bahamas.
Read More About