The Minister of Health Zane DeSilva announced that today [Apr 4] is the start of Public Health Week. This year Public Health Week will be celebrated from April 4th to 8th, with World Health Day being recognized on April 7th.
Pictured below is the Minister together with Department of Health mascot 'Bermy Germy' and members of the Department of Health.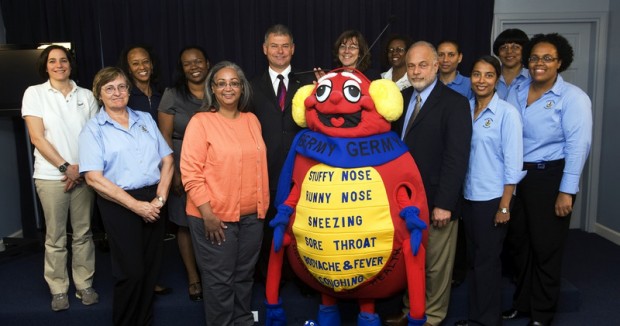 Minister DeSilva's full remarks follow below:
Good Morning Everyone,

This year Public Health Week will be celebrated from April 4th to 8th, with World Health Day being recognized on April 7th.

To bring attention to the growing global problem of antimicrobial resistance, the World Health Organization has chosen Antimicrobial Resistance as its theme for World Health Day 2011.
Antimicrobial or antibiotic resistance is the ability of bacteria or other microbes to resist the effects of an antibiotic.

Because of their widespread availability and familiarity, relative safety, and – generally speaking – low costs, antimicrobials are among the most misused of all medicines.

Improving the use of antimicrobials ultimately involves guiding treatment decisions made by patients and healthcare providers.

The Department of Health will today launch a campaign about the importance of appropriate antibiotic use with the slogan "Get Smart: Know When Antibiotics Work".

This campaign will reach out to the general public, physicians, and pharmacists through fact sheets, brochures, posters, radio PSAs and media interviews.

In this campaign the Department of Health is asking healthcare providers to take the time to educate patients about antibiotic resistance and the potentially serious side effects.

The aim is to:

Increase appropriate use: by ensuring that infected patients who need antimicrobial therapy have access to quality medicines, use antibiotics as prescribed, do not share them with others, and finish the prescription even if they feel better.
Decrease inappropriate use: by discouraging the indiscriminate use of antimicrobials in patients unlikely to derive any benefit.

Over-prescribing antibiotics, using a broad-spectrum therapy when a more specific drug would be better, stopping medications, and giving leftover medication to a friend who appears to have the same ailment all contribute to the serious issue of antibiotic resistance.

Antimicrobial resistance threatens the continued effectiveness of many medicines used today to treat the sick, while at the same time it risks jeopardizing important advances being made against major infectious killers.

You may ask why you should be concerned about antibiotic resistance…

Well, simply put, antibiotic resistance has been called one of the world's most pressing public health problems.

Antibiotics are the most important weapon we have to combat life-threatening bacterial diseases. Notice I said "bacterial diseases", as antibiotics are only effective on bacterial diseases not viral infections.

Almost all types of bacteria have become stronger and less responsive to antibiotic treatment when it is really needed.

The antibiotic-resistant bacteria can quickly spread to family members, schoolmates, and co-workers – threatening the community with a new strain of infectious disease that is more difficult to cure and more expensive to treat.

The public can find out more information about antibiotics on the Department of Health website.

Other activities planned for Public Health Week include an Expired Medications Day on Tuesday April 5th and the Public Health Awards on Wednesday, April 6th.

I would like to welcome our special guest today 'Bermy Germy' who is here this morning to remind us that good hand hygiene is one of the best ways to keep from getting sick and spreading illnesses.

On Tuesday, April 5th we are encouraging the public to bring their unused and expired medications into their local pharmacy for safe disposal.

Bermy Germy will make another special appearance at the Hamilton Pharmacy at noon on April 5th, and the first 30 people who bring in unused or expired medications to Hamilton Pharmacy during this time will receive a special gift.

On April 6th the Department of Health will be recognising public health success in Bermuda by honouring the recipients of the 2011 Public Health Awards.

The public was invited to nominate physicians and pharmacists who have contributed to public health in the local community.

The Public Health Awards will recognize physicians and pharmacists who advocate, encourage and inspire health improvements in their communities.

On Thursday, April 7th, World Health Day, the Department of Health will be collaborating with Argus Insurance and the Bermuda Hospitals Board in the annual Argus Health Fair – the theme of which is "I Love My Heart".

The public is encouraged to attend for information on a range of health issues.

For more information go to www.health.gov.bm or call the Health Promotion Office at 278-6504, or email healthpromotion@gov.bm.

Remember, Bermuda: Get Smart. Know How Antibiotics Work. The power to prevent resistance is in your hands!

Thank You.
Read More About
Category: All