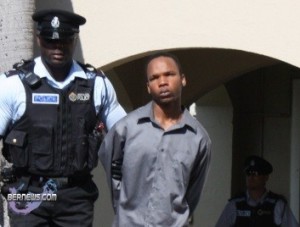 The murder trial of 21-year-old Kevin Andre Warner started yesterday [May 9] in Supreme Court.
Mr Warner is alleged to have murdered 24-year-old Dekimo "Purple" Martin on May 28th, 2010. The two men were well known to each other and said to be friends.
Mr Warner turned himself in shortly after the murder, and was subsequently arrested.
On June 1, 2010 he was charged with murder and possession of a firearm with the intent to commit an indictable offense.
Mr Warner, represented by Kim Hollis QC and Elizabeth Christopher, has pleaded not guilty.
At approximately 1am on May 28th, Mr Martin was hit by multiple gunshots at his residence of #8 Peacock Crescent, Sandy's Parish. He was rushed to King Edward Memorial Hospital where he was pronounced dead at around 1:45am that morning.
Yesterday Prosecutor Carington Mahoney said the defendant was a frequent visitor to #8 Peacock Crescent in Sandys, which was the residence of both Mr Martin and the Lewis family, with Mr Warner said to be a cousin and close friend of Kellan Lewis and his sister.
Mr Warner and Mr Martin had spent time together during the day and later that night the two men were outside talking. Police Officers found bullet casings and a driver's license belonging to Mr Warner at the scene, Mr Mahoney said.
Giving evidence in the  trial today [May 10], a crown witness told the six man six woman jury of a late night discussion at #8 Peacock Crescent involving himself, accused murderer Kevin Warner, victim Dekimo Martin, and a man named 'Tony'.
In his evidence, the witness said that their late night discussion covered many topics including women and God. He told the jury that he left that discussion around 11:45pm that night, went inside the house and laid down on the couch so that he could get some sleep because he had to get up early the next morning and go to work.
He said that he'd been lying down for about fifteen minutes when his daughter woke him up. He said that he then got up again and went back outside the house where he could hear Mr Martin and Mr Warner still talking. The witness said that he had gone outside to smoke a cigarette but had not rejoined the two men who were around the corner, and out of sight to him, but who he could still hear.
The witness said that after about fifteen minutes he came back inside and went to lay down, again, on the couch. He said that he had just laid down when he "heard three shots." He said: "They were so loud that my ears were ringing…that's how close it was."
He went on: "I immediately turned out all the lights, told everybody to shut up and I closed all the doors. It was too dark to see outside."
He said that he then ran outside to where the sensor lights were but the sensor lights did not come on. "I was using my cellphone as my light. I could hear moaning. I was shouting…where are you? I can hear you but I can't see you."
He said that he kept calling out but got no answer. Because the sensor lights were not working, M Lewis said that he got an extension cord and one of his worklights and then searched around outside the house. He said: "I kept walking to where I heard the moaning – I could see it was 'Kimo."
The witness said that Mr Martin, critically wounded, was lying upside down on a set of steps next to the house.  He also gave evidence that on later checking the sensor lights, which he said he had installed, he found a bulb missing and another loosened.
Cross-examined by QC Kim Hollis, lawyer for the accused Kevin Warner, the witness admitted that he did not wear a watch and could not be exactly certain about times and timings. He said that while he might not have exact times, he certainly remembered, as he put it, the "traumatizing" events of that night.
Still under cross-examination, he said that he was sure that he had gone in earlier and had lain down on the couch. His daughter had then disturbed him and he had gotten up again and gone outside.
Questioned about the relationship between Mr Martin, Mr Warner, and his daughter, he said that he saw nothing wrong with their friendships. On the night, he said that he thought that the defendant had an attitude but that he found it unremarkable given that Mr Martin had his new bike and he did not know where he was withe the bike.
The witness said that if someone else had done something similar to him, that is disappear without explanation with something valuable of his, he too would have had an attitude.
Still being cross-examined, he remained adamant that on rising and going back outside, the only voices he heard were those of Mr Warner and 'Kimo'.
The case continues…………………
[File photo]
Read More About
Category: All, Court Reports, Crime