[Updated] This morning [June 5] there was a three car accident on Southside Road in St David's in the area by the Pizza restaurant. There were three vehicles involved, with an SUV sustaining extremely serious damage in the accident: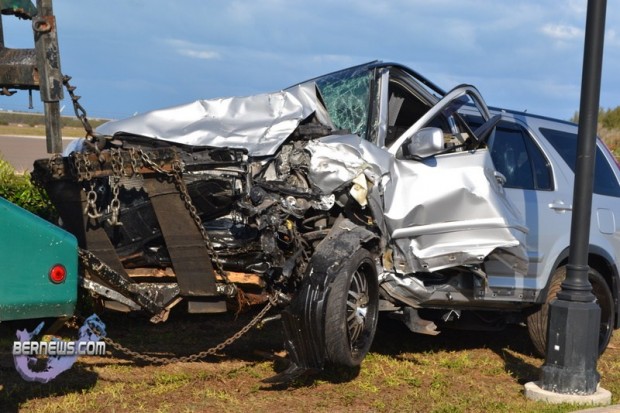 A taxi also sustained serious front end damage, although not as extreme as the damage seen to the SUV.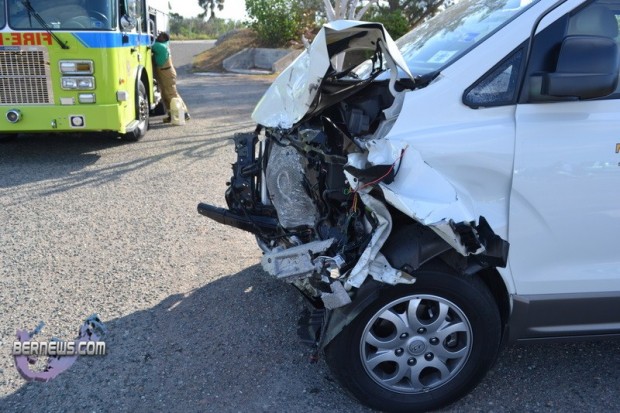 The accident delayed the start of this morning's Bermuda Bicycle Association's cycling race, with the cyclists having to wait for the vehicles to cleared from the road prior to starting their race.
It is unclear exactly what transpired at this time, although we unofficially understand that at least one person was injured and is presently hospitalized. We will update with official information as able.
Update 2:30pm: Officials confirmed that at least one person was injured, however did not give specifics of the extent of those injuries at this time. The injured man is presently undergoing surgery.
Update 7:55pm: The Police said the accident occurred at 4:45am this morning, and both the driver of the SUV and taxi were injured, while the car driver was uninjured. The full Police statement is below:
Around 4:45am on Sunday, Police and first responders attended a reported three vehicle road traffic collision resulting in injury on Southside Road in St. George's in the vicinity of the Southside Cinema.

It appears that a SUV, a car and a taxi were traveling along Southside Road when the collision occurred. The drivers of the SUV and the taxi, a 37 year old Pembroke man and a 41 year old Sandys parish man respectively, were injured and taken to King Edward VII Memorial Hospital via ambulance for treatment. Their condition is unknown at this time.

The driver of the car, a 32 year old St. George's man, was not injured. All three vehicles were extensively damaged. Inquiries into this incident are underway. Police are appealing for any witnesses or anyone with any information to contact PC Romeo Allen on 295-0011.
Update 11:45pm: The drivers of the SUV, a 37 year old Pembroke man, is listed in stable condition on a surgical ward and the driver of the taxi, a 41 year old Sandys parish man, has been discharged from the hospital.
Update June 6: The SUV driver remains in stable condition on a general ward this morning. Photo of all three cars after the accident early yesterday morning added below.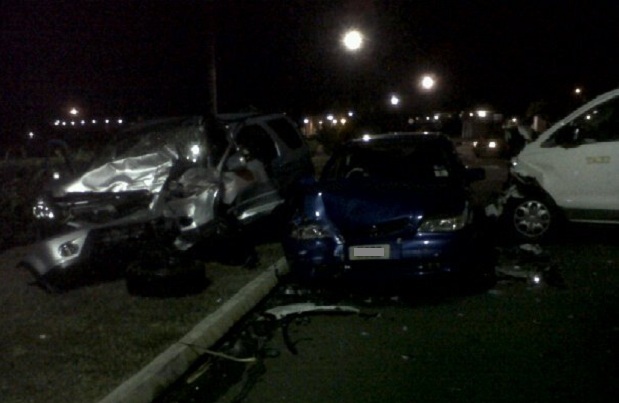 Click to enlarge photos:
Read More About
Category: Accidents and fires, Accidents/Fires, All, Cars/Bikes, News, Photos