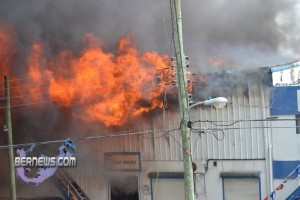 A statement last night from Premier Paula Cox about the HWP fire, applauded the efforts of the Bermuda Fire Service, and said Government will meet with the management and staff of HWP Group to see how they can assist.
"Today the people of Bermuda have been moved by the fire and property damage at HWP. We are thankful that there was no loss of life and applaud the responsiveness and efforts of the Bermuda Fire Service."
"Once the immediate situation has been assessed, members of the Government team will meet with the management and staff of HWP Group to explore how we can assist."
"We wish to express our sincere concern to the management and staff on behalf of the Government and people of Bermuda."
Yesterday, 20 fire trucks and 60 firefighters battled for hours to bring the massive blaze at HWP under control, with fire trucks rushing in from both ends of the island – some seen with police bike escorts. There were no reported injuries, although one firefighter suffered from heat exhaustion and was treated by paramedics.
Chief Fire Officer Hollinsid said after arriving they, "made attempts to extinguish the fire by entering the building, but that was quickly decided against because of the construction of the building, and it was considered to be unsafe."
"The officer in charge made the decision to go into what we call a defensive firefighter mode. That means we would not commit people to the building, we used a surround and drown methodology," continued Mr Hollinsid.
The HWP building was extensively damaged, with the body and paint facilities, administrative infrastructure, computer, e-mail and telephone systems all having been completely destroyed.
Read More About
Category: All