[Updated] The start of a large task is now underway – the work on the HWP Group Body & Paint Centre on St. John's Road. Yesterday [Aug.8] flames tore through the building causing extensive damage to the property and automobiles, with the fire burning for over three hours.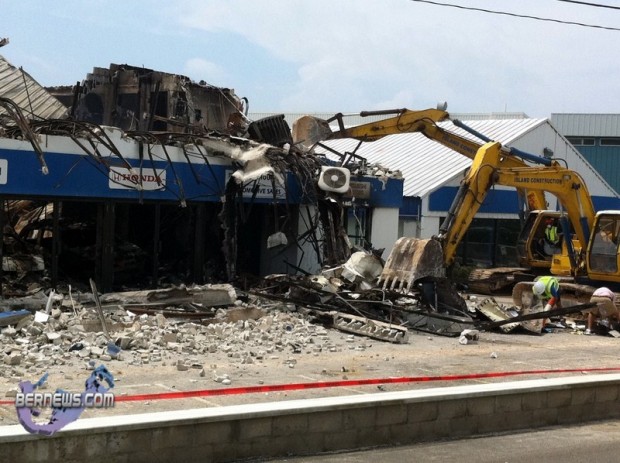 The road was opened late last night, and this morning the true extent of the damage could be seen. Much of the roof collapsed, the interior of the car showroom was decimated with lines of burned cars on display in front of the shattered windows. Smoke was still wafting from the middle of the building this morning, blowing across the Dandy Town sports club.
Earlier today [Aug.9] the repairs began, with both manpower and machinery at work. Dozens of curious onlookers have gathered at the gas station and surrounding areas to watch the construction machinery tear down the walls of the HWP car showroom. The work is underway presently, and we will bring you additional footage later today.
Watch as the roof is removed:
Update 1:45pm: Demolition has come to a standstill as fire department personnel are taking a closer inspection of the building. Workmen were seen retrieving papers that were falling out of charred filing cabinets.
Update 3:45pm: Workmen moved onto working to clear away all the burned cars, video below:
HWP CEO Jonathan Brewin said, "We are making every effort to complete all mechanical work as soon as possible and HWP will be open for business from Wednesday morning, albeit on a restricted basis."
"We will be working manually, as our computerised systems are down, so we ask for patience from our customers. Mechanical services anticipate that they will be able to run on around a 50% capacity for the time being. The biggest issue will be in the parts department which relies heavily on a computerised inventory system."
Click to enlarge photos:
Read More About
Category: Accidents and fires, Accidents/Fires, All, News, Photos, Videos