[Updated] At approximately 4pm this afternoon [Sept.17] emergency services responded to an accident that occurred on North Shore Road, next to Shelly Bay field. The car went over the embankment and landed on the field.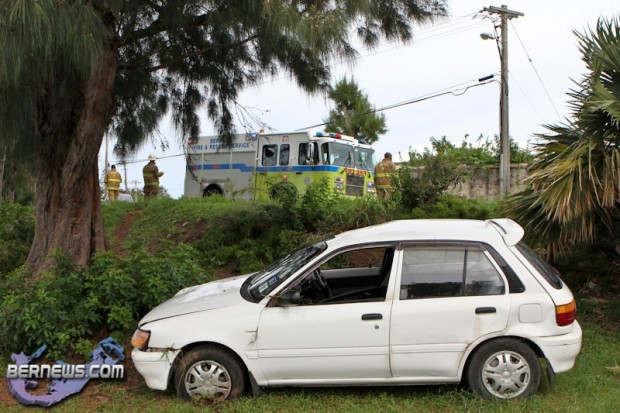 We unofficially understand the car had two occupants in it, and both appear to have sustained injuries, and were transported to the hospital via ambulance. It is not believed their injuries are life threatening, however we will update with official information as able.
A short while later, at approximately 5:30pm, another accident occurred, this time involving an SUV and a bike at the junction of Watlington Road and Middle Road in Devonshire. Emergency services tended to the injured bike rider, until an ambulance arrived on scene.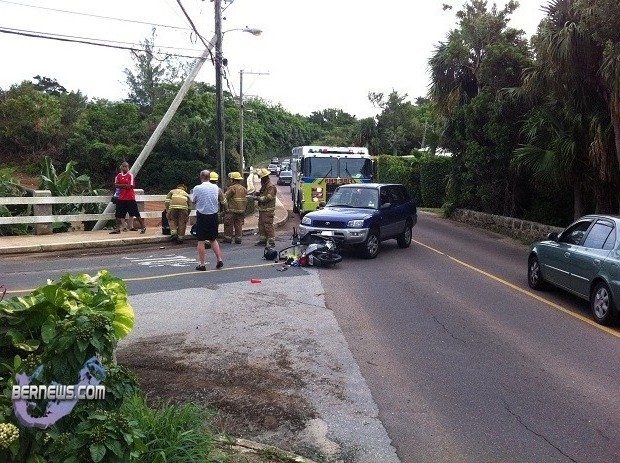 Updated with police statement: A police spokesperson said, "Around 4pm on Saturday, police and first responders attended a reported single vehicle collision resulting in injury on North Shore Road in Hamilton parish near the junction with Doctors Lane."
"It appears that a car was traveling along North Shore Road when it went over an embankment. The driver, a 56 year old Hamilton parish man, received minor injuries and the vehicle was damaged as a result. Inquiries into this incident are underway."
"Around 5:30pm on Saturday, police and first responders attended a reported road traffic collision resulting in injury at the junction of Middle Road and Watlington Road West in Devonshire involving a motorcycle and a SUV. It appears that both vehicles were traveling along Middle Road when they collided at the junction. The motorcycle rider, a 27 year old Smith's parish man, received minor injuries as a result. The driver of the SUV was not injured. Both vehicles were damaged. Inquiries into this incident are underway."
Read More About
Category: Accidents and fires, All, News