[Updated] The One Bermuda Alliance [OBA] hosted their second Town Hall this evening [Sept.1] at Penno's Wharf in St. George's. The panelists were Shadow Finance Minister Bob Richards and Senator Craig Cannonier – the two leadership candidates.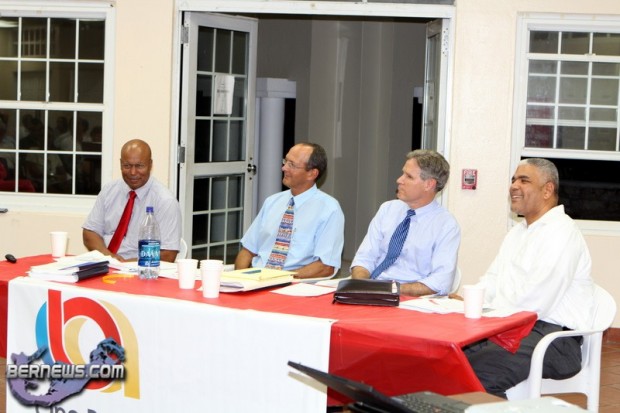 Moderating was former UBP Senator Suzann Roberts-Holshouser, while Shadow Education Minister Dr Grant Gibbons and Alan Marshall also sat on the panel. OBA membership sign ups were being accepted at the door.
There were approximately 50 people in attendance when the Town Hall started, with just over 60 by the end. Attendees included OBA Interim Leader John Barritt, MP Cole Simons, Senator Michael Dunkley, Jeanne Atherden, Jeff Sousa, Sean Pitcher, Michael Branco, incoming Party Chairman Thad Hollis, St George's Mayor Kenneth Bascome, PLP candidate John Gibbons and more.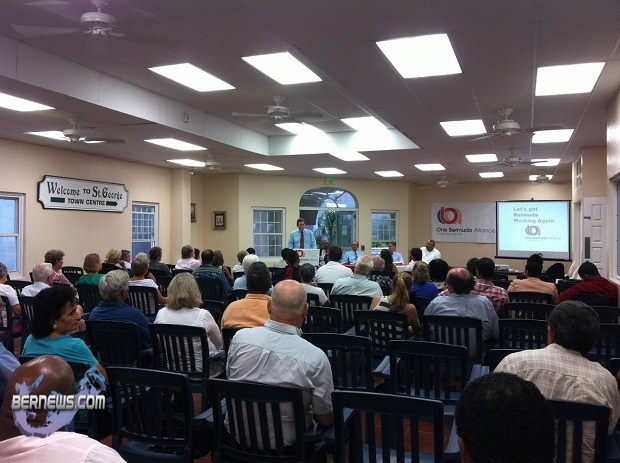 Mr Richards said, "irresponsible spending has placed this little island in a precarious position of being in debt to the tune of $1.2 billion. That is billion with a B." He said that is 580% higher then it was in 2004.
Highlighting the chart below on a projector screen, Mr Richards said, "Premier Cox as Finance Minster has blown her own budgets by huge amounts per year."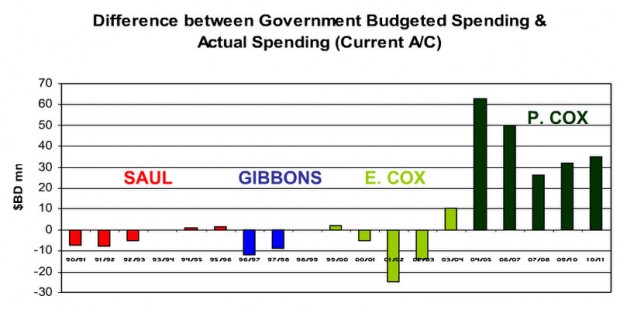 "Take a close look at this, cause this overspending started in the year 2004/5, three full years before the global recession set in. So don't let anyone tell you that these problems are due to the global recession. They are not."
Mr Richards said we need to fix the economy, increasing revenue through international business and tourism, and cutting government spending. He said out attitude to customers is critical to success, and that we need to treat them like customers not like "pariahs," and that change in attitude must start at top with government. One very enthused lady in the audience gave Mr Richards a standing ovation when he finished his presentation.
Senator Cannonier spoke after Mr Richards, and started off reminiscing about growing up in St. George's, and later in his presentation snickers could be heard through the room when he said years back "the only thing we used to worry about in St George's was if Alabama was drunk again."
He said the present Government is not committed to St George's, and he knows this as he lives in St. George's. "The OBA realizes St. George's needs reason – not rhetoric," said Senator Cannonier.
The full audio from the Town Hall – 1 hr 40 mins long – is below:
The first question from the audience was about seeking foreign investment, asking "is that selling Bermuda out?" Mr Richards replied that if we don't we will have nothing to sell out. The lady who asked the question replied, saying she feels we "need checks and balances, as she is not about to sell out the country."
Senator Cannonier said we need to welcome billionaire investors, and make sure they are welcomed and customs doesn't search "everything including their underwear."
Asked if there is a blueprint to fix St. Georges, Dr. Gibbons started to answer saying we "would support the Corporation of Hamilton", which drew a quick correction from many in the audience, esp the Mayor of St. George's. Dr Gibbons quickly fixed his error and continued on.
Two people from the audience – which was overwhelmingly middle aged/older people – suggested getting more young people involved in the party.
OBA Interim Leader John Barritt gave a brief welcome, and a few words at the end:
This was the second Town Hall the OBA has hosted, the first was last month and the full 90 minute video replay of the first Town Hall is here, and additional videos from this evening are on Bernews TV.
Update: The full slide presentation from Bob Richards is below, click to move to next slide:

Read More About