Business Bermuda represented Bermuda's fund industry at the MENA Investment Management Conference, formerly Fund Forum Middle East, on 3 October 2011 in Doha, Qatar.
Business Bermuda chaired the Rethinking Business Models & Strategies session at the event, ending with "The Onshore/Offshore Debate" panel and a discussion about how the offshore world provides value to the onshore world.
Business Bermuda's Chief Executive Officer, Cheryl Packwood chaired the session with panellists Nicolas Angio, Managing Director of Apex Fund Services Bahrain & Dubai and Fawaz Elmalki, Associate at Conyers Dill & Pearman about Bermuda's strong relationship with the GCC and its intention to promote and develop Islamic finance, which has increasingly offered a new, mainstream and less vulnerable alternative to western banks and investment products, in Bermuda which is well placed to provide investors, promoters and asset managers worldwide the opportunity to expand and expand their Shariah-compliant products.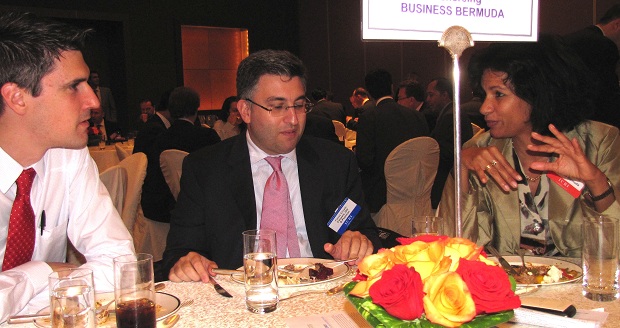 The panel examined Bermuda's regulatory framework which enhances its attractiveness to funds as well as other advantages offered to funds such as the ability to gain prompt approval for a fund from the Bermuda Monetary Authority (BMA), to structure Bermuda umbrella funds as segregated account companies, to list on the Bermuda Stock Exchange (BSX) with no restrictions on investment objectives and even the ability to use non-roman characters.
The BMA recently published guidance notes that facilitate the establishment of Islamic investment funds in Bermuda based on sound corporate governance principles, to help prospective applicants looking to establish such funds comply with Bermuda's funds regulations, specifically the Investment Funds Act 2006, to ensure Shariah compliant products can be accommodated and regulated as best as possible within Bermuda's strong regulatory framework while compliant with international best practice standards.
At the Networking & "Meet the Speaker" lunch hosted by Business Bermuda, members of the MENA fund industry discussed Bermuda's opportunity to support the creation and development of Islamic financial products including retakaful, Shariah compliant funds and sukuk.
Bermuda signed a double taxation agreement with the Kingdom of Bahrain in 2010 which provides structuring opportunities for both conventional and Shariah compliant investors accessing the GCC, therefore Bermuda is well positioned to emerge as an Islamic funds hub in the western hemisphere.
Bermuda is already home to a large institutional Shariah compliant fund and the GE Capital Sukuk was the first sukuk issued by a U.S. corporation ranking in the Top 10 Fortune 500 companies and the first to be based on ownership interests in aircraft assets and rights under the aircraft assets leases. The sukuk was offered under Regulation S and structured using a Bermuda limited liability exempted company.
Cheryl Packwood, CEO of Business Bermuda commented: "Islamic finance presents an opportunity for funds jurisdictions in general, but Bermuda's tax neutrality is a competitive advantage over its onshore competitors. There is also no stamp duty on any instrument affecting or relating to international businesses in Bermuda. Bermuda's world-class financial services industry, its flexibility and its international regulatory framework are well-suited to support the development of Islamic finance in the Western markets. Business Bermuda will continue to market its position as the Western hub for Islamic finance."
His Excellency Yousef Hussain Kamal, Qatar Minister of Economy and Finance gave the Guest Welcome Address to open the conference, lauding the success of the growth in GDP of the Qatar economy and its transition into a knowledge-based economy.
Read More About