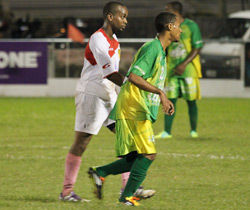 On Wednesday night [Oct.19] the Devonshire Cougars went ahead 1 – 0 in the 5th minute of the Dudley Eve Semi-Final when Lejuan Simmons scored, Sammy DeGraff equalized for the North Village Rams in the 40th minute as the teams went to the break locked at 1 – 1.
Degraff gave the North Village Rams the lead with a goal in the 73rd minute and then five minutes later Jason Williams the North Village Rams goalkeeper scored. Williams had a kick go the length of the field and elude the Devonshire Cougars goalkeeper to put them ahead 3 – 1, Jamie Smith pulled a goal back for the Devonshire Cougars making the score 3 – 2 after 86 minutes, but the North Village Rams were able to hold on and advance to the Final.
In the second Semi-Final the Southampton Rangers took an early lead when Ezekiel Stoneham scored from close range, however the Dandy Town Hornets got a hat-trick from Raymond Beach and a single strike from Heyes Wolfe as they advanced to the Dudley Eve Final to face the North Village Rams.
Read More About