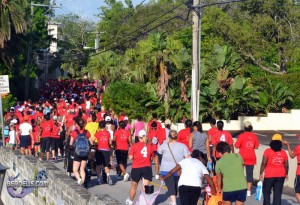 [Updated] Hundreds of women turned out for the 14th Annual Partner Re 5k this morning [Oct.2], with Joanna Shillington crossing the line first to take top honours.
Now in its 14th year, the PartnerRe Women's 5K Run & Walk is presented by Mid-Atlantic Athletic Club, sponsored by PartnerRe, and sanctioned by the Bermuda Track & Field Association.
Shillington and Jennifer Alen started the race neck and neck running at a high pace, Alen eventually pulled away from Shillington along Berry Hill Road, however she collapsed less than 100 meters from the finish line, with Shillington then running by and through the finish line.
Alen, who crossed the line with the help of staff from the St. John's Ambulance, was then taken from the Botanical Gardens via ambulance to the King Edward Memorial Hospital.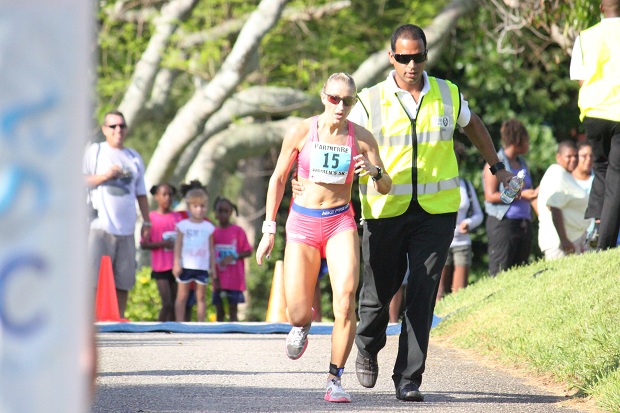 Shilligton said, "I am really strong down hill and that is what allowed my strong start, I was feeling good throughout the race, but I thought Alen had it when she made her surge on Berry Hill."
"When I saw that she was struggling I was not sure what to do but I just kept on running and I hope she is going to be OK," concluded Shillington.
Open to women only, it includes a 5K race, a 5K walk and a 2K run for girls under 15. All entry fee proceeds [matched by title sponsor PartnerRe Ltd.] will go directly to the Bermuda Heart Foundation.
Since 1998, the PartnerRe Women's 5K Run & Walk has raised more than $278,000 for female-related causes in Bermuda, including programmes to fight heart disease, confront physical abuse, support rape victims, educate teenagers, combat breast cancer, and fund equipment and initiatives supporting the treatment of women's health.
Shillington crossed the line in a time of 19.02, but because Alen received help getting across the finish line she was disqualified, thus allowing Victoria Fiddick to finish 2nd with a time of 20.02 and Deon Breary finished 3rd clocking 20.38.
Quinnae Outerbridge led from start to finish winning the 2K run clocking a time of 6:49, Messiah Greaves finished second with a time of 7:11 and Ashley Irby finished third at the distance clocking 7:19.
We will update with full results as able.
Update 5.37pm: Full results below:
Read More About