[Updated] The Bermuda Environmental Sustainability Taskforce [BEST] has spoken out against development plans for the Island Construction premises on Devonshire Marsh.
Owned by Health Minister Zane DeSilva, BEST said Island Construction's plans to build three warehouses on the marsh "would allow damaging construction to take place on lands with protective zonings."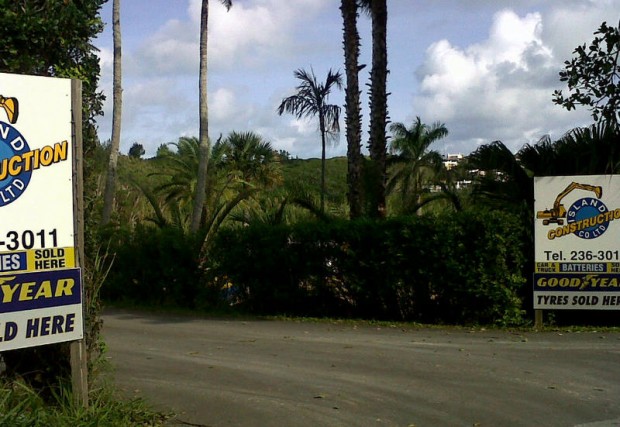 "This decision is an affront to orderly development as laid out and accepted by Parliament in the Bermuda Plan 2008, and a blot on the Premier's aspirations toward good governance," said BEST.
BEST says the plans from Mr. DeSilva's ZanZara Trust would "negatively impact the Open Space Reserve and the Water Resource Protection Area on which they would sit as well as the abutting Devonshire Marsh Nature Reserve and wetland habitat."
The application was originally rejected by the Planning Department but approved on appeal by then Environment Minister Walter Roban.
BEST Chairman Stuart Hayward said, "When one Cabinet Minister appeals a decision of a government agency like the Development Applications Board that appeal should not be heard by a fellow Cabinet Minister because the oft-touted principle of 'collective responsibility' means essentially that the one arm of the collective Cabinet [albeit in his individual capacity] is appealing to another arm of the same Cabinet — Caesar is appealing to Caesar."
The August 2010 letter of objection from BEST is below, click 'fullscreen' for greater clarity:
Update 5.01pm: Shadow Minister for the Environment and Planning Michael M. Fahy, said "The One Bermuda Alliance stands for transparency in Government."
"It is our belief that the latest approval in principle by the then outgoing Minister of Environment, Minister Roban, in respect of granting planning permission to a fellow Cabinet Minister is unethical."
"The timing of the approval is very suspicious. It certainly does not stand up to the sunshine of public scrutiny and does not, in our view, fulfill the expectations set by the Premier in respect of her Cabinet that things would now be different."
"It seems reasonable to ask for an explanation for the decision made by the then Minister as to why he seemingly ignored all the advice of his own department when he approved the application. Was this discussed at Cabinet? Who knew about this?"
"We believe that Bermuda needs answers. Being silent does not mean the issue will simply go away. The OBA is very much in favour of a comprehensive overhaul of planning laws, rules and regulations to not just streamline the planning and appeals process, but also to curtail the ability of Environment Ministers to make such strange decisions."
"That is real change. BEST should be commended for bringing this to the public's attention," concluded Mr Fahy.
Read More About
Category: All, Environment, News, Politics