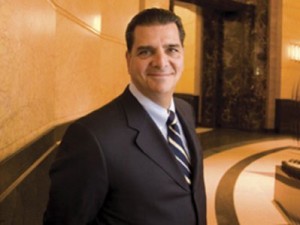 Bermuda's Assured Guaranty Ltd., the only active municipal bond insurer in the US, said it will reconsider guaranteeing public bonds in states without procedures for reviewing and approving local bankruptcy petitions after filings by Alabama's Jefferson County and Harrisburg, Pennsylvania.
"Local governments must recognise their responsibilities to live up to the promises made by current and former duly elected officials," Assured CEO Dominic Frederico [pictured] told the Bloomberg financial news service today [Nov.15]. "The term full faith and credit must have meaning and challenges via bankruptcy or other legal maneuvers to negotiated contracts can't be accepted."
Assured guaranteed debt of Jefferson County, which last week filed the largest-ever US municipal bankruptcy.
The bond insurer also backed debt sold as part of an incinerator expansion in Harrisburg, where the city's council voted to seek bankruptcy protection last month in a bid to ward off a state takeover.
Mr. Frederico said the Hamilton, Bermuda-based guarantor was "disappointed" with Jefferson County commissioners' decision to file the biggest-ever US municipal bankruptcy, saying a settlement and restructuring outlined to the county "represents an excellent opportunity."
Read More About