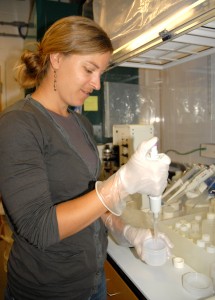 Although almost three-quarters of the globe is covered by oceans very little is known about the chemistry of these vast waters — but the international GEOTRACES project is attempting to change that and a Bermuda scientist is on the front lines of its groundbreaking research.
GEOTRACES is the first large-scale survey of trace elements and their distributions throughout the global ocean, the chemistry of which is key to supporting marine life as we know it.
Trace elements are chemical elements in seawater with minute concentrations: things measured in the parts-per trillion.
The GEOTRACES programme is a long-term, international effort that will take place over a decade, with thirty countries participating.
One of the scientists who is part of this monumental task is located in Bermuda, at the Bermuda Institute of Ocean Sciences [BIOS].
Assistant Scientist Dr. Kristen Buck [pictured] has been working with the GEOTRACES project since its inception in 2010.
Specifically, she measures organic iron-binding ligands for the US GEOTRACES programme in the North Atlantic.
The GEOTRACES project is meant as a baseline study, a gathering of data points.
Hopefully the information gathered during the GEOTRACES project will help this group of international scientists understand how sensitive trace elements are to changing environmental conditions.
As Dr. Buck puts it, "If we don't know the distributions of these parameters, and how they cycle, we can't predict how they'll react in the future."
The last of the US GEOTRACES North Atlantic section cruise for 2011 will take place in November and December of this year.
More than 30 scientists will be aboard the ship and the cruise leg will be from Woods Hole Oceanographic Institute to Bermuda -– arriving this week — to Cape Verde.
Dr. Buck will have samples collected from that cruise in order to continue her
Read More About
Category: All, Environment