[Updated] The Reconvening of Parliament is underway this morning [Nov.4], with all the pomp and circumstance that surrounds it. Senators, Ministers, Members of Parliament and other dignitaries attended the proceedings, and Governor Sir Richard Gozney is reading the Throne Speech, which outlines Government's Legislative Agenda for 2012.
Always a fashion parade, female MPs are dressed to impress, while their male counterparts are decked out in their best suits including the UBP's Kim Swan in top hat and tails. Premier Paula Cox is wearing a black and white ensemble, with green – the PLP's signature colour – accessories.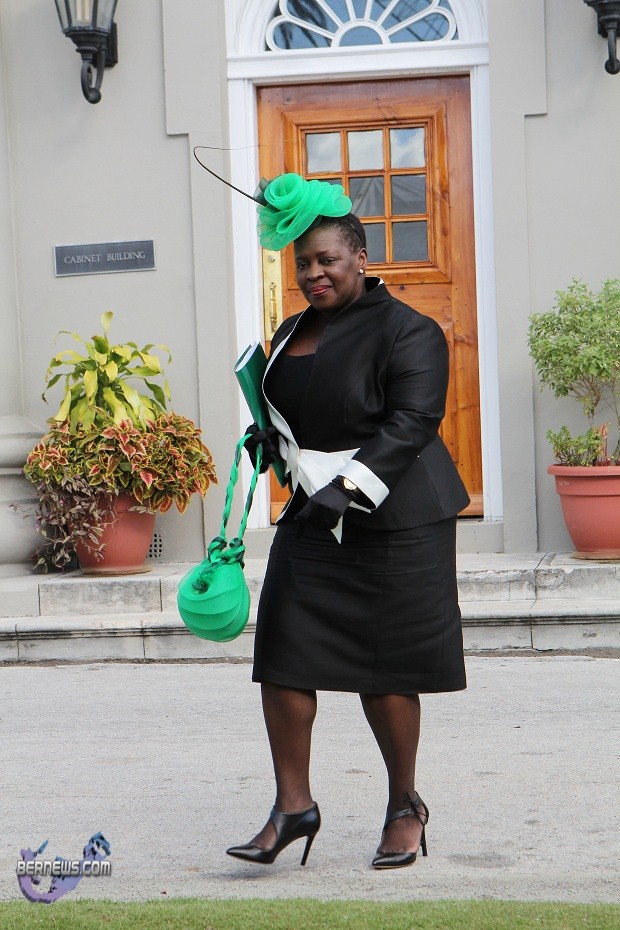 The event is being held in the grounds of the Cabinet Building on Front Street, and crowds of people have lined the street to watch. The Bermuda Regiment provided a Guard of Honour on Front Street for the arrival and departure of the Governor.
The Governor inspected the Guard of Honour and then dispatched Black Rod to summon the Members of Parliament. He then read the Throne Speech on behalf of the Government, which outlined the planned programmes and legislation for the ensuing Parliamentary year.
Highlights of the speech [full text here] included Government's announcement it will consider holding a referendum on whether or not to legalise gaming in Bermuda in order to boost the island's hospitality sector.
In other tourism-related news, Sir Richard Gozney said College Weeks — once a mainstay of the island's tourism product but scrapped in the '80s — would be re-introduced to try and lure Ivy League university students here during their Spring Breaks.
The main focus of the Throne Speech was on stimulating Bermuda's economy, with Government pledging to draw more outside investment to Bermuda and foster job-creating enterprises. Additional photos, videos and the full text of the Throne Speech to come as the day progresses.
Click to enlarge:
Read More About
Category: All, Beauty/Fashion, News, News, Photos, Politics, Politics