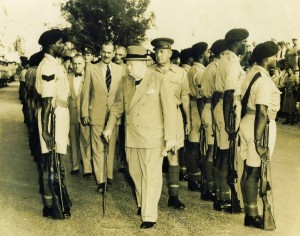 During their regular Sunday morning service today [Nov.6], St Paul's AME congregation held a special service of dedication.
The particular dedication and blessing was of two flags, one remembering the Bermuda Militia Artillery [1897 -1965], and the other the Bermuda Militia Infantry [1942-1946].
Both units consisted of black Bermudians who, until 1960, were always commanded and officered by white Bermudians. Both units saw wartime service [in the photo then British Prime Minister Winston Churchill inspects BMA soldiers on Front Street during his 1953 Bermuda summit meeting with US President Dwight Eisenhower].
In 1916, over 240 of these black Bermuda Militiamen voluntarily transferred into the Bermuda Contingent, Royal Garrison Artillery.
They served in France from June, 1916-June, 1919.
During World War Two, one hundred black Bermudians went overseas as the Bermuda Contingent, 1st Caribbean Regiment. They served in Italy, Egypt and British Mandatory Palestine between 1943 and 1946.
Overall, in these two wars, eleven of these black Bermudian soldiers died and lie buried in foreign lands. Their bodies are scattered in well-maintained military cemeteries in England [one], France [seven], Belgium [two] and Italy [one].
St. Paul's Pastor, Reverend Lanel Guyton blessed the two flags. But before doing so, he called on Minister of National Security Wayne Perinchief and ex-Captain Larry Burchall and ex-Major Randy Butler [both formerly BMA and the Bermuda Regiment] to stand alongside the flags as representatives of the two units and of the national Government.
Rev. Guyton also presented four special certificates of recognition. One was to Mr. Randolph Hayward. Mr Hayward was a member of the BMI contingent that served with the Caribbean Regiment.
BMA Enlisted Men, NCOs And Officers In France During World War One [1914-1918]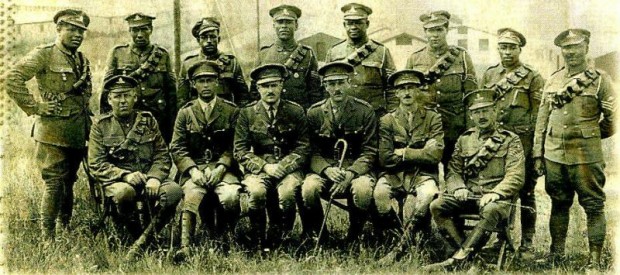 Mr. Hayward had always resented the disparity in the postwar treatment accorded to the white soldiers of the Bermuda Volunteer Rifle Corps [BVRC] and the black soldiers of the BMI.
Mr. Hayward's feelings on behalf of his BMI comrades was finally recognised in 2007 when the present Government moved to accord pension and health benefits to all those men who had served, locally or overseas, during the 1939-1945 Second World War.
His feelings were so strong that for 60 years, from 1946 to 2006, he refused to participate in the annual 11th November Remembrance Day commemorations.
Mr. Hayward did so for the first time on November 11th 2007 when, representing the Bermuda Contingent, 1st Caribbean Regt, he laid a wreath at the Cenotaph on behalf of his comrades.
The second and third certificates were to Deputy Premier Derrick Burgess and Carol Everson.
As Works Minister, Mr. Burgess was instrumental in creating the black and white granite monument that stands in the southeast corner of the Cabinet grounds and that displays the names of all Bermudians who served in World War l [1914-1918] and World War ll [1939 - 1945].
Ms Everson was recognised for her tireless efforts on behalf of Bermuda's black ex-servicemen who had served during World War Two.
The fourth certificate was to former Government Senator Lt. Colonel David Burch who piloted through the legal amendments that allowed the payment of pensions and provision of health benefits to all ex-servicemen who had seen war service.
The Bermuda Regiment's Major Marc Telemaque, a member of St Paul's congregation and closely involved with today's re-dedication, intimated that this Remembrance Sunday service might become an annual event.
National Security Minister Wayne Perinchief, Lt. Col. David Burch, Ms Carol Everson, Deputy Premier Derrick Burgess. former Captain Larry Burchall and former Major Randy Butler At St. Paul's AME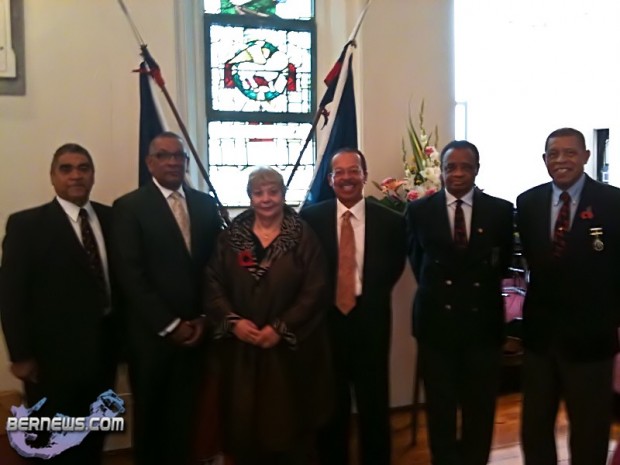 Read More About