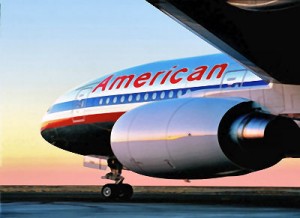 [Updated] Bermuda Airport Operations has said although scheduled American flights from Miami and New York's JFK will arrive this evening as per normal — 7:45pm and 8:25pm respectively — both aircraft will depart tonight rather than tomorrow [Nov.11] to avoid the possibility of tropical storm-force winds.
Each American Airlines flight will depart approximately one hour after arrival. Passengers will have been notified by the airline.American Airlines, said the Department of Airline Operations.
Forecasters say high winds will begin pounding Bermuda this evening [Nov.10] as Tropical Storm Sean continues to lumber towards the island, the Bermuda Weather Service has warned.
In its 11.30 am advisory on Tropical Storm Sean, the BWS said winds will become increasingly strong throughout the day, reaching tropical storm force by this evening.
Sean is currently 313 nautical miles to Bermuda's west-southwest, The high winds will continue overnight into Friday morning before the 18th-named tropical storm of the 2011 Atlantic hurricane season veers away from the island and the weekend brings settled weather with easing winds.
The US National Hurricane Centre advised at 11 a.m. that Sean's maximum sustained winds remain at 65 miles per hour with higher gusts.
"Some strengthening is possible during the next day or two and Sean could still become a hurricane," said an NHC forecaster. "However, weakening is expected to begin by Friday."
Sean is moving northeast at 7 mph and tropical storm-force winds extend outward up to 255 miles from its centre.
A tropical storm watch remains in effect in Bermuda.
Update 2.37pm: A BA spokesperson said, "British Airways flight BA 2233 to Bermuda has left London and is due to arrive in Bermuda just before 6 p.m."
"Outbound BA 2232 to London is due to depart on schedule at 8.05 pm. Of course these flights will depend on no serious deterioration in the weather."
Read More About