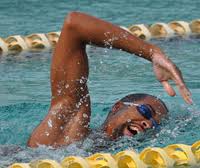 Lisa Blackburn and Roy-Allan Burch [pictured] have both been training hard with their club teams in the US. They were both given an unprecedented opportunity to train at the US Olympic training center pool in Colorado Springs.
In the year of the Olympics this pool is reserved for US National team swimmers but with both of our athlete's participating in high level US programs they were given the special invites. At 6,500 feet above sea level the intensity of the training at that altitude was significant in their preparation.
Blackburn said "Training at altitude was challenging, yet very rewarding as my training improved significantly. My strength improved and my training times also improved. It has been several years since I have been able to post such quick times in practice so I look forward to continuing to train at this level for the next several months as I prepare to reach my Olympic qualification time."
Burch was equally impressed by the training and had this to say, "The training camp was a great experience. I had previously visited the OTC at the end of 2002 heading into 2003 when I was in High School. It was great to go back with a better understanding of what I needed to do with my training to raise my level of performance. I learned more about what was expected of me from my coaches and amongst my teammates.
"It was a wonderful bonding experience and of course the training was very intense. I completed some of the fiercest workouts that I have ever been faced with. Along with the altitude the workouts were extremely difficult and mentally challenging. Going forth with less than 200 days to the games, this gives me ample confidence in my ability to make great improvements.
Both athletes joined their teams at the Austin Grand Prix in Austin Texas directly following the intensive training camp and gave this feedback following the conclusion of the meet.
Blackburn said, "Although I competed at the Austin Grand Prix immediately after the training camp (it can often be difficult to compete at sea level immediately after training at altitude), my swims were very good. I was especially pleased with the fact that I qualified for two final swims in the 100 and 200 breast. It has been several years since I have competed in a Grand Prix final so to compete with the fastest swimmers was very rewarding.
"It also shows that my training program and my hard work is starting to pay off. I was also very pleased with swimming to two National records in the 200 breaststroke (heats and finals). It is great to be swimming this event in the 230′s again and I will definitely aim for the Olympic time in this event as well as the 100 breast.
"Although my 100 breast was not as fast as I thought it could have been, I am satisfied with knowing that the time I posted in Austin nearly matched my National record swim at the beginning of December, which was in a rested, shaved and completely prepared state. I expect my time in this event to continue to improve.
"I will continue to work on my endurance and I will start to incorporate more speed work into my program in the weeks and months to come which should help improve my time."
Burch said, "After completing the camp I went straight into a long-course competition. I was a bit nervous when competing because of how tired I had become. I was able to swim my second best in season 100meter freestyle on the first day of competition but was unable to achieve a second swim in the finals.
"Fortunately I was placed on a relay were I was able to swim on the 3rd leg. I went into the relay knowing that I could have given more in my morning swim. I was able to swim a 51.36 which was very close to my best time. It gave me much more confidence to take out my 100 free stronger and with more initiative.
"The following day I had the 50 free. There were many tuff opponents swimming the 50 and I knew it would be difficult to achieve a second swim. Fortunately I was able to swim close to my in-season best and earn a spot in the b-final. I was able to improve my time in the final but was not able to move up in places."
Burch returned to Charlotte to continue his training and will be looking to improve from the Olympic selection standard to the Olympic qualifying standard in the 50 free at the British National Trials which will be held at the Olympic Games pool in March.
Blackburn has returned to Naples Florida where she will continue to rev up for her bid to make the Olympic selection times with upcoming meets in Columbus and Indianapolis.
Coach Smith says that "Bermuda Swimming is fortunate to have two of our Olympic contenders training with programs of this world class level. Having the opportunity to train with World record holders and coaches that coach world record holders can only help to drive them to their full potential."
Read More About