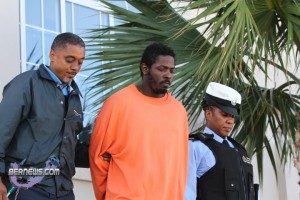 A 30-year-old man was sentenced to 16 years in prison this morning [Feb.14], for sexually assaulting a woman last year.
Brittonie Taylor, of no fixed abode, previously pleaded guilty to sexually assaulting a woman in Smith's Parish in May 2011.
The victim was jogging in the area of Paynters Road and Harrington Sound Road in Hamilton Parish she was attacked by the Taylor at around 8.30am on Saturday May 28th 2011.
Immediately after the incident he was pursued on foot by police and despite attempting to evade arrest by jumping into the ocean, he was arrested a short time later.
After hearing submissions from the Prosecution and defence lawyer Marc Daniels, and before passing sentence, Justice Carlyle Greaves described Taylor as a man too dangerous to be allowed to prowl about amongst civilians. Justice Greaves said that there was: "…every likelihood that he will be a real danger to female members of society."
Justice Greaves said that it was ironic that on this day, Valentine's day, a day of love, he had, instead, to have a day of pain as he dealt with this matter. The Justice said that he would like to put him away "forever," but that this feeling was tempered by the courts and the law.
The Prosecutor reviewed the case, reminded the judge that the offence had occurred over a prolonged period of time, had caused physical injury to the innocent victim, and had traumatized her.
The Prosecutor also told the judge that the psychiatric report on Taylor, who is Jamaican, had indicated that though Taylor's actions might possibly have a connection to a mental problem, that in their opinion, Taylor was not suffering from any mental illness that would or could explain his behaviour on the day of the assault.
However, Taylor had admitted to not having taken prescribed medication for a week prior, and having used marijuana and alcohol on the night before the assault.
In mitigation, lawyer Marc Daniels submitted that Taylor was bipolar, and that he had issues with his own parenting and family background. As well, the lawyer submitted that Taylor said and maintained that he had no memory of the incident. Justice Greaves responded by saying, "He forgot about it? You're telling me that the man forgot about it?….He is a cunning fox."
The Court heard that the assault took place over a considerable period of time and distance. It involved Taylor grabbing the woman, taking her down to the waterside, sexually assaulting her, talking to her, then partially undressing her, attempting to rape her, getting dressed again, then leaving the waterside and walking with her to an ATM. The victim was said to have begged for her life.
When asked to if he had anything to say, Taylor said that he had no "recall for that" and was "sorry from my heart". The Prosecution had recommended a sentence between 12 – 15 years. Taylor's lawyer had asked for a sentence between 9 – 13 years.
On hearing that it would be 16 years, a woman present in Court appeared to be upset and cried out: "No, no. Sixteen years. Brittonie, what have you done?"
[File photo]
Read More About
Category: All, Court Reports, Crime, News