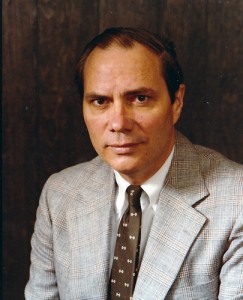 Junius Peake, one of the American finance industry's earliest proponents of electronic trading who set up a pioneering off-shore exchange in Bermuda in the 1980s, has died. He was 80.
According to an obituary on the Bloomberg financial news service, Mr. Peake [pictured] died on January 27 in hospice care at Northern Colorado Medical Center in Greeley, Colorado.
He had suffered a series of strokes in recent year. He retired in 2006 after 14 years as professor of finance at the Monfort College of Business, part of the University of Northern Colorado in Greeley.
"Peake, known as Jay, had a front-row view as Wall Street firms were inundated by paper during what became known as the back-office crisis of the late 1960s," said Bloombeg. "As partner in charge of operations at the Manhattan brokerage firm Shields & Co., he oversaw the use of a $500,000 computer system the firm purchased in 1964 from National Cash Register Co., now known as NCR Corp."
That experience shaped Mr. Peake's view that buying and selling by shouting on trading floors such as the New York Stock Exchange "was no longer viable in the modern world and that it was essential to move to automated trading," he wrote in a four-page summary of his career. "This was a change in which I passionately believed, and I began to express my opinions and suggestions for change in many articles and papers, which led to me being asked to testify at various congressional hearings."
In 1981, Mr. Peake and Eugene M. Grummer, a former senior vice president at Merrill Lynch International, announced plans to open the first electronic trading system for futures contracts, the International Futures Exchange, or Intex, based in Bermuda.
They promised to provide "the most advanced computer technology" to as many as 600 members who would order contracts for future delivery on terminals in their offices, according to a news release they issued at the time.
The exchange opened in 1984, two years behind schedule, with Mr. Grummer as chairman. It didn't attract much business and lasted only a few years. "It was a great idea before its time," Mr. Peake's son Andrew told Bloomberg.
He said his father "never patented his ideas, never got rich from all this. He's one of the few guys on Wall Street who wasn't rich after being at it as long as he was. He just knew that after a while the world would come around to his ideas."
Read More About
Category: All, Business, technology