Bermuda's winged heralds of spring have arrived early this year.
Unseasonably mild weather in the last week of January encouraged a few Longtails to return much earlier than usual, with birds seen off Coney Island and Spittal Pond.
Andrew Dobson, president of the Bermuda Audubon Society, said, "The White-tailed Tropicbird — or 'Longtail — is found in many parts of the tropics, but only comes on shore to breed.
"Bermuda is hugely important for this species, supporting about 2,500 pairs — one of the largest colonies in the Atlantic Ocean."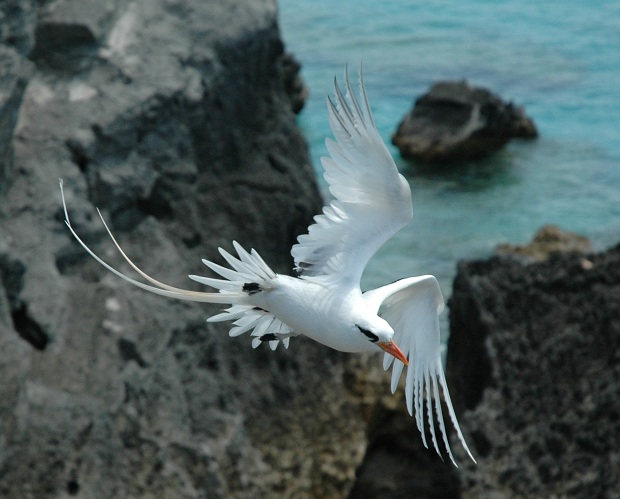 Mr. Dobson continued: "As the name would suggest, tropicbirds are found mainly within the tropics, in the Atlantic, Pacific and Indian Oceans. Bermuda is the Longtail's most northerly breeding location due to the warming influence of the Gulf Stream. Our species of tropicbird is also found in the Bahamas and the Caribbean.
"However, the local population has been slowly been declining due to coastal development and the destruction of the limestone cliffs around much of the island."
The Bermuda Audubon Society has implemented a programme to assist the survival to the Longtail.
Artificial nests for Longtails, developed and fabricated initially in 1996, have proven to be highly acceptable replacements for natural cliff crevices and nest sites.
The Department of Conservation Services has joined the Audubon Society in encouraging developers in coastal areas to include the fabricated nests in their structures.
Read More About
Category: All, Environment