The second day of the 2012 Carifta Swimming Championships saw Bermuda pick up another three medals — including two golds — after Jesse Washington and Shannon Hassell continued their medal winning form.
The tremendous performance by these two 12-year-old swimmers has brought Bermuda's medal total to six, as it follows after the three medals won by Washington and Hassell on the first day of competition.
Jesse Washington, National Swim Coach Ben Smith and Shannon Hassell: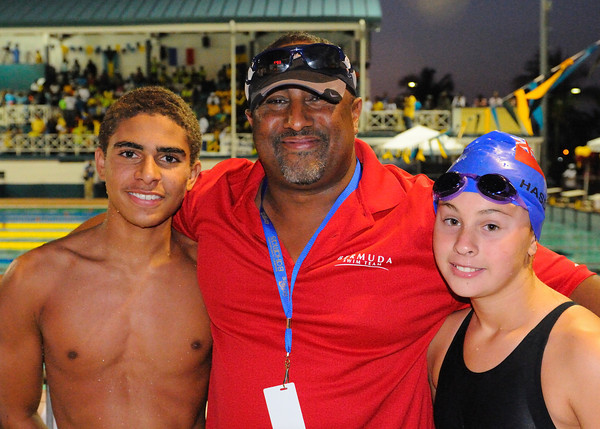 Jesse Washington won the 11-12 Boys 200 Meter Freestyle Final to win his second gold medal of the Games after he touched the wall in a time of 2:07.95. Ten minutes later he returned to win his third gold medal, winning the 11-12 Boys 50 Meter Butterfly gold medal in a time of 28.92. Jesse has now collected four medals, including three golds.
Shannon Hassell won her second medal of the Games when she finished second in the 11-12 Girls 100 Meter Backstroke Final in a time of 1:13.72. She then finished 5th in the 11-12 Girls 200 Meter Freestyle Final after she clocked a time of 2:22.62.
The 2012 Carifta Swimming Games are being held from April 12th – 15th in Nassau, Bahamas and nine top Bermuda swimmers are representing the island; Nic Patterson, Katrina Beveridge, Benedict Parfict, Philip Hagen, Shannon Hassell, Aaron Rego, Jesse Washington, Madelyn Moore and Ashley Yearwood.
Full Bermuda Team Results below, click 'Fullscreen' for greater clarity:
Read More About