The City of Hamilton has purchased the property located at the stoplight on the corner of Dundonald and Court Streets, and will be launching a survey asking for input on how people would like to see the space used.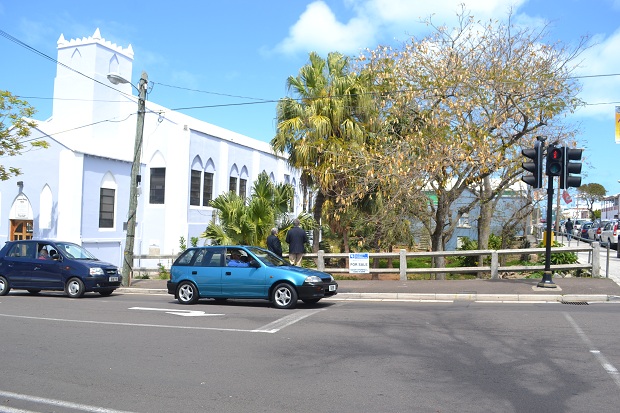 The Mayor said that the asking price was $635,000, but they were able to purchase the lot for less than the asking price, and that the Bank had advanced sufficient funds to enable a reasonable amount of necessary remedial work to be attended to now.
Mayor of Hamilton Charles Gosling said, "I am truly honored and pleased to stand before you today to announce a land purchase negotiated by the City of Hamilton with Butterfield Bank.
"On behalf of the Board Members of the City, I must thank Butterfield Bank for their foresight, community focus and flexibility in working with the City administration to make possible the purchase of this property on which we stand.
"It is only with Butterfield Bank's generous support are we able to stand here today and ultimately share the property with the residents and businesses on Court and Dundonald Streets and our fellow city users.
Mayor Charles Gosling and CoH Secretary Ed Benevides standing by the For Sale sign:
"Three years ago, while the Council and myself were on a post election walkabout with the Uptown Market Association, we spied this property and felt it would be an excellent space to be acquired by the City.
"At that time Government had committed itself to purchase the property and while there were brief discussions on our taking over this commitment, nothing came of it. Recently the property was placed back on the market.
"Seeing that opportunity come about again, with the support of the council, I met with Brad Kopp the President and CEO of Butterfield Bank and we were quickly able to come to an agreement on the purchase.
"I believe this property has a great potential for this area. There have been a number of suggestions made about what we could do with this piece of undeveloped land.
"It was former Councillor, Mr. Carvel Van Putten, who told me several years ago, when we first started looking at this property and I was looking for feedback, that amongst the ideas he had was for a street art market particularly aimed at supporting our talented young adults who may be challenged to find other supporting venues.
Mr Van Putten explaining why the CoH purchase is important:
Major Gosling continued: "Yes, this would be an excellent use of the space and provides one idea of what can be achieved here. However, we would like to hear from the residents and business owners, workers and shoppers who frequent this area. What would you like to see this space become?
"We believe having an attractive and welcoming space, whatever it will be, will attract locals and tourists to the Court Street area, especially those who may not know of the retail, eating establishments, fashion and hair salon gems surrounding the land.
"We will launch a brief survey asking for input on how people would like to see the space used. The survey can be found on the City of Hamilton website at cityofhamilton.bm. Comments can always be emailed to me at mayor@cityhall.bm.
"We look forward to developing the potential this space has. Some work will be quickly undertaken to remedy the undermining of the sidewalks and streets as well as basic clear out of trash and other cosmetic changes. We will keep everyone apprised of the decisions moving forward," concluded Mayor Gosling.
Read More About