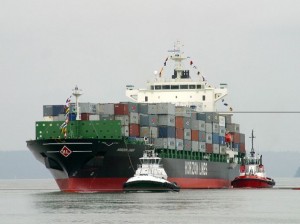 Bermuda based Ship Finance International Limited, yesterday [Apr.10] announced that it has agreed to terminate chartering agreements with Horizon Lines, LLC relating to five of its vessels.
Ship Finance will receive as termination compensation $40 million in second lien notes issued by Horizon Lines and warrants exercisable into ten percent of the common stock of Horizon Lines, Inc. as part of the restructuring outlined below.
The 2,824teu vessels were built in Korea in 2006 and 2007, and have been chartered to Horizon Lines for an average of approximately 5 years. The original bareboat charter term was for 12 years, but following the termination of the Horizon Lines charters, Ship Finance will employ the vessels in the time-charter market instead.
The break-even rate per day per vessel (after interest, debt amortization and estimated operating expenses) will be approximately $10,500 for the first 18 months and thereafter approximately $14,500 per day for the next 66 months.
The issuance of the $40 million of notes is part of a comprehensive restructuring of Horizon Lines. The notes will be part of a total of approximately $140 million of second lien notes, and junior to approximately $225 million of first lien notes.
The notes will mature in October 2016 and interest is payable semi-annually, first time in October 2012. The annual interest rate will be 13% if paid in cash, 14% if paid 50/50 in cash and newly issued bonds and 15% if paid in newly issued bonds only.
As security for the bonds, Horizon Lines has pledged essentially all of its assets, including 12 owned vessels in its U.S. Jones Act business. Horizon Lines will have the option to redeem the notes at 106% starting in October 2013, at 103% starting in October 2014 and at par starting in October 2015.
In addition, as part of Horizon Lines' overall restructuring, holders of its remaining $228 million of Convertible Senior Secured Notes converted their notes into common stock (or warrants for non-U.S. citizens).
Following this conversion of Convertible Senior Secured Notes and the issuance of the $40 million of notes to Ship Finance, Horizon Lines, Inc.'s total funded debt will be reduced from approximately $593 million as of March 31, 2012 to approximately $404 million.
CEO of Ship Finance Management AS, Ole B. Hjertaker, said in a comment: "We are pleased with the outcome of this comprehensive restructuring of Horizon Lines. The vessels are only five years old on average and of good quality and design.
"Even though the container chartering market currently is soft, we believe there is a good potential for improvements from current levels and our break-even rates are significantly below the historical average."
Mr. Hjertaker continued: "The redelivery of the five vessels to Ship Finance will enable Horizon Lines to focus entirely on its core domestic U.S Jones Act container market, and Horizon Lines should be well positioned to deliver positive results going forward.
"Ship Finance will become a large stakeholder in the restructured Horizon Lines and expects to benefit from both the interest on the notes as well as the value of securities received."
Read More About