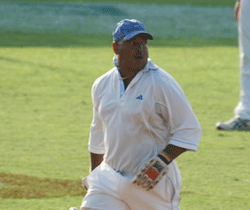 The St. George's Cricket Club President Neil Paynter has announced the selection committee for the 2012 Cup Match Classic. George Cannonier is the Chairman, along with captain Lionel Cann, Charlie Marshall, Wendell Smith and Gary Brangman.
Marshall has the most runs in the Annual Classic scoring 1,357, while Smith has 1,143 runs which sees him in third place. Marshall's Cup Match career began with that memorable century as a Colt in the 1980 Classic at the Wellington Oval hitting the last ball of the game off Robert Hinds for six, much to the displeasure of the Somerset Cricket Club captain at the time Randy Horton.
Marshall played from 1980-2009, he batted 43 times with his highest score being 134, Marshall also bowled 25 overs, with 6 maidens, he gave up 82 runs and took 3 wickets. Marshall grabbed 12 catches during his Classic career.
Smith played Cup Match from 1976-1996, he batted 35 times, with a top knock of 129. Smith who captained the St. George's Cricket Club also held on to 16 catches.
Brangman played Cup Match from 1997-2002, Brangman went to bat 6 times, scoring 81 runs with a high score of 30 not out, Brangman bowled a total of 91.3 overs, with 34 maidens, he gave up 198 runs and took 14 wickets, Brangman also held onto 5 catches.
Read More About