The U.S. Consulate in Bermuda joined with numerous American public buildings, military posts, naval stations, embassies and consular offices around the world in flying their flag at half mast yesterday [Sept 12] as a mark of respect to the four Americans who lost their lives after an attack on the U.S. diplomatic post in Libya.
The attack in Libya took place on the 11th anniversary of the 9/11 attacks in New York and Washington, and Ambassador Chris Stevens and Foreign Service Officer Sean Smith were among those killed.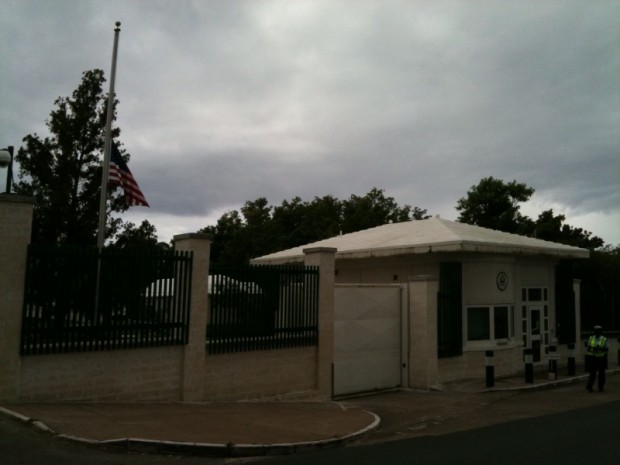 President Obama ordered the flags be flown at half mast with an official proclamation that said: "As a mark of respect for the memory of John Christopher Stevens, United States Ambassador to Libya, and American personnel killed in the senseless attack on our diplomatic facility in Benghazi, by the authority vested in me as President of the United States by the Constitution and the laws of the United States of America, I hereby order that the flag of the United States shall be flown at half-staff at the White House and upon all public buildings and grounds, at all military posts and naval stations, and on all naval vessels of the Federal Government in the District of Columbia and throughout the United States and its Territories and possessions until sunset, September 16, 2012.
"I also direct that the flag shall be flown at half-staff for the same length of time at all United States embassies, legations, consular offices, and other facilities abroad, including all military facilities and naval vessels and stations."
Read More About
Category: All