Capital G hosted the prize giving for the 5th Annual Rocket Pitch Competition earlier today [Nov 29] and Minister Patrice Minors was on hand to congratulate the top three winners of the 5th Annual Rocket Pitch Competition.
First place went to Laura Lyons for Avisrara, an Online Art Gallery; Laura Trott took second with Pets R Us, her concept for a full service pet shop complete with veterinary services, and third place went to Feria Alpha's Fruit Florists for her edible fruit arrangements.
Sponsored by Capital G during Global Entrepreneurship Week 2012, the competition was held on Thursday evening, November 15th at the Chamber of Commerce.
This Island-wide Business Plan Competition was a chance for emerging entrepreneurs to submit a plan to launch an enterprise providing products or services to both local and global challenges of any type.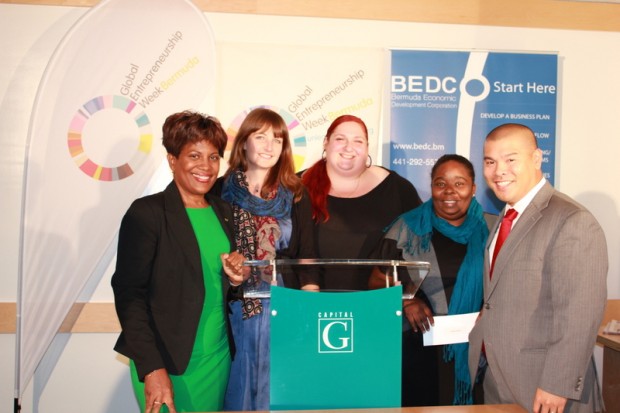 "The framework of the Rocket Pitch presentation is simple," said Jamilah Lodge, Business Development officer for the BEDC. "The presenter has seven minutes to tell a story to potential investors and then respond to questions. The main goal of a Rocket Pitch is to illustrate a business opportunity. A pitch needs to be clear and straightforward and not overly technical."
With an eye on the prize of $3,750.00 in venture funding provided by Capital G and BEDC, eight individuals began the competition presenting ideas ranging from a crowd sourcing public art works, nutritious Chef Services, to a producer of elegant three dimensional do-it-yourself invitations, a one stop shop pet store, online art gallery, edible fruit arrangements, a mobile retail outlet, and an online resource for free-lancers.
"It wasn't an easy task choosing first, second and third place" said judge Rob Bernardino, Head of Business Banking Capital G Bank Ltd, who along with Michelle Khaldun Executive Director, BEDC, and Anthony Foster, Owner, Bermuda Sanitation & Engineering and BEDC Chairman chose the top three winners.
Also extending congratulations to the participants was Joe Mahoney, Executive Director of the Youth Entrepreneurship Initiative and coordinator of the GEW Bermuda Host Committee. "We believe that every entrepreneur who enters the Rocket Pitch Competition is a winner for getting their dream of starting a business underway by coming in to pitch their business plan."
Read More About