Over 50 Christmas Carolers took to the streets of Hamilton last night [Dec 20] spreading Christmas Cheer lead by Power 95 radio personality Patrina "Power Girl" Paynter.
They started at the City Hall Christmas Tree and made their way to different restaurants and stores throughout Hamilton with some restaurants encouraging the carolers to come inside and sing to their patrons. Their final stop was at the Hamilton Market Place where they were rewarded with free hot chocolate for everyone.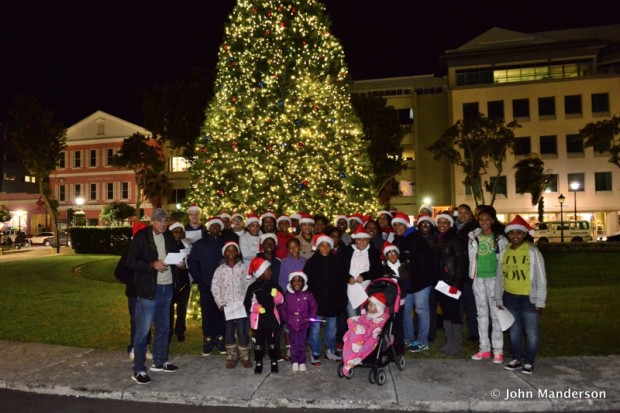 Power Girl said "The reason I started caroling was because I wanted to do something to bring members of the community together and relive memories of Christmas past in Bermuda.
"Sometimes we get so caught up in the hustle and bustle of Christmas that we forget to enjoy it. Yesterday we took a break from all of that and had some good "old fashioned" fun… proving that the simple things in life are sometimes the most meaningful.
"To see the smiles on peoples faces, the children dancing, elderly ladies singing with tears in their eyes and the joy being spread amongst the carolers – these are memories I will never forget that are worth more than any expensive gift… money can't buy this. Next year we have plans to make it even bigger."
Click to enlarge photos:
Read More About