In the play "Calendar Girls" — being staged in Bermuda later this month — cancer-stricken John Clark says of his middle-aged wife Annie: "The flowers of Yorkshire are like the women of Yorkshire. In each phase of their lives they become more radiant, but the last phase is their most glorious …"
After John succumbs to his leukaemia, his wistful remark inspires Annie's best friend, Chris, to raise money for a new settee for the local hospital waiting room using little more than their wits — and their natural, far-side-of-50 charms.
They manage to persuade four fellow Women's Institute [WI] members Cora, Celia, Ruth and Jessie to pose nude for an "alternative" calendar, with a little help from hospital porter and amateur photographer, Lawrence.
News of the women's charitable venture spreads like wild fire and hordes of press soon descend on the small village of Knapely in the Yorkshire Dales. The calendar is a success but Chris and Annie's friendship is put to the test under the strain of new found fame.
"The Flowers Of Yorkshire": Cast of the Bermuda Musical & Dramatic Society's "Calendar Girls"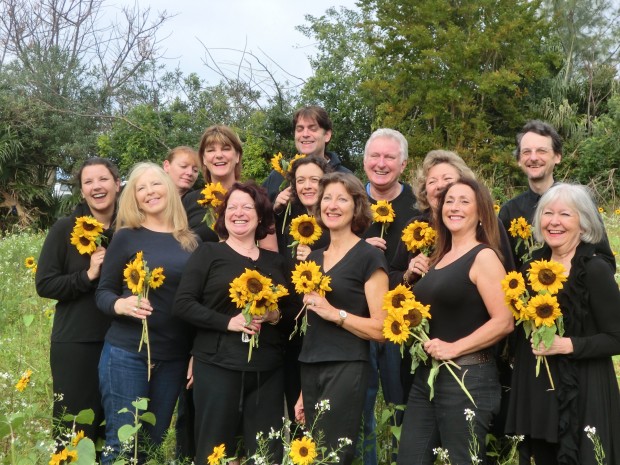 Based on a true story of 11 Women's Institute members who posed nude for a calendar to raise money for Leukaemia Research Fund, "Calendar Girls" opened at the Chichester Festival Theatre and has since become the fastest selling play in British theatre history.
The Bermuda Musical & Dramatic Society production of the play runs from April 11-13 and 17-20 at the Earl Cameron Theatre, City Hall. Showtime is at 8 p.m.
Online bookings can be made at www.bmds.bm from now until April 20.
Tickets can also be purchased at the Daylesford Theatre box office [tel. 292-0848] at the corner of Washington and Dundonald Streets from 5:30-6:30pm, on April 3-5 and 8-10.
They will also be available at the Earl Cameron Theatre from 7-8pm on performance nights.
The fundraising phenomenon of the real "Calendar Girls" — which also inspired a 2003 film starring Helen Mirren –continues to the present day. To date they have raised over £2 million for Leukaemia & Lymphoma Research, the UK's leading blood cancer charity.
The photos for the original 2000 "Alternative WI Calendar", as it was named, were taken by Terry Logan, a former professional photographer who was married to one of the models.
It was released on April 12, 1999 and became a runaway success, selling out in the first week. 10,000 additional copies were printed, all of which were sold within three weeks. Nine months after its launch, the calendar had sold 88,000 copies.
It then was adapted for an American version and the ladies were invited to appear with Jay Leno and Rosie O'Donnell on their respective talk shows. That year the calendar sold 202,000 copies.
Trailer for 2003 Helen Mirren "Calendar Girls" film
Proceeds from the 2000 calendar were used to fund lymphoma and leukaemia research in new laboratories at the University of Leeds. A plaque dedicated to John Baker [the model for the play's John Clark] which reads, "The work in this laboratory is dedicated to the memory of John Baker in recognition of the exceptional fundraising achievements of 'The Calendar Girls' of the Rylstone & District Women's Institute."
Since 2000, the Calendar Girls have produced calendars for 2004, 2005, 2007 and a recipe calendar for 2008 with their favourite Yorkshire recipes on the back of each month.
Ten years on, the Calendar Girls launched a 2010 Calendar with a new set of full colour images and the aim of raising £2 million for Leukaemia & Lymphoma Research.
And in a case of life imitating art, the 10 female stars of the BMDS "Calendar Girls" production along with the play's producer and director will be posing for a 2014 Bermuda calendar to raise funds for local cancer charities.
Proceeds raised by the $15 calendars will be contributed to Bermuda Cancer and Health, Friends of Hospice and PALS with a small percentage of profits going to the BMDS charitable trust.
Strategically placed props will prevent too much skin from being exposed by the local Calendar Girls.
The calendars will soon be available online at www.bmds.bm  and will be shipped all over the world.
"Our photo shoots for the Bermuda calendar were practically the same as in the movie and play — wine, warnings about exposed 'bits', laughter, and friends helping each other out," producer Adrienne Hintz told Bernews. "Only difference was that our photographer was a woman!"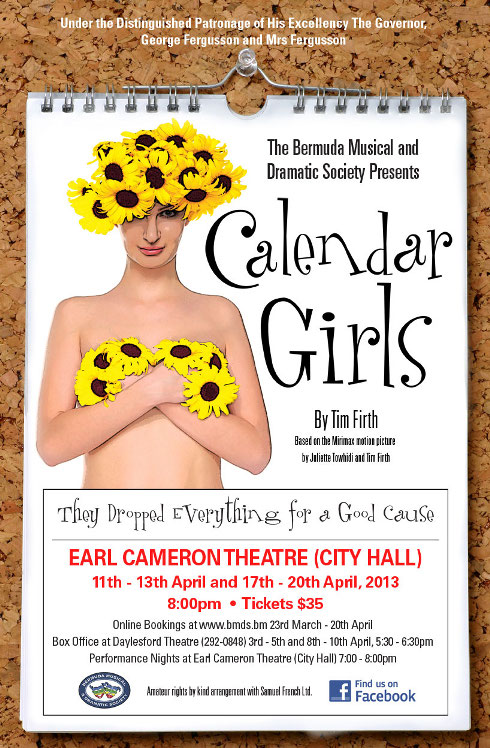 – Photograph courtesy of Adrienne Hintz
Read More About
Category: All, Entertainment