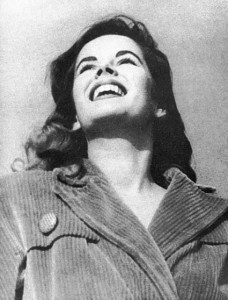 Holly Golightly — the cheerfully non-conformist heroine of Truman Capote's novella "Breakfast At Tiffany's" — was witty, naive, achingly beautiful and part Bermudian, at least in spirit.
A composite of Bermuda-born Oona O'Neill [pictured] and her girls-about-town friends Gloria Vanderbilt and Carol Marcus, the part of New York café society fixture Holly was played by Audrey Hepburn in the classic 1961 film adaptation.
Now Mr. Capote's 1958 typed manuscript of "Breakfast at Tiffany's" — rife with the author's handwritten edits — is being offered for sale by a New Hampshire auction house which expects it to fetch at least $250,000 later this month.
"It's obviously quite a treasure, quite a find for us," RR Auctions vice president Bobby Livingston said of the Capote manuscript. He said the source of the manuscript wants to remain anonymous.
Mr. Livingston said the auction was not timed to a new Broadway adaption of "Breakfast at Tiffany's" now playing at New York City's Cort Theater, saying that was just "serendipitous."
Author Capote — in creating his "American geisha" Holly Golightly character — is said to have found inspiration in his close friendships with heiress and future designer Gloria Vanderbilt and the vivacious, poised and and stylish Oona O'Neill.
Carol Marcus — who went on to marry novelist William Saroyan twice and, later, the actor Walter Matthau — had fallen in with a teenage Truman Capote in the early 1940s and introduced the aspiring writer to a circle of friends which included Oona O'Neill ands Gloria Vanderbilt. The group prowled such celebrated nightclubs as El Morocco and the Stork Club.
The friendship of the three women and their association with Truman Capote is chronicled in Aram Saroyan's "Trio" and also in Carol Marcus Matthau's bestselling memoir, "Among the Porcupines."
Oona O'Neill was born in Bermuda in 1925. Her mother, Agnes Boulton, wrote short stories; her father Eugene O'Neill, a chronic alcoholic, was the only American playwright to receive the Nobel Prize in Literature.
The original, hand-corrected manuscript of "Breakfast At Tiffany's" is to be auctioned later this month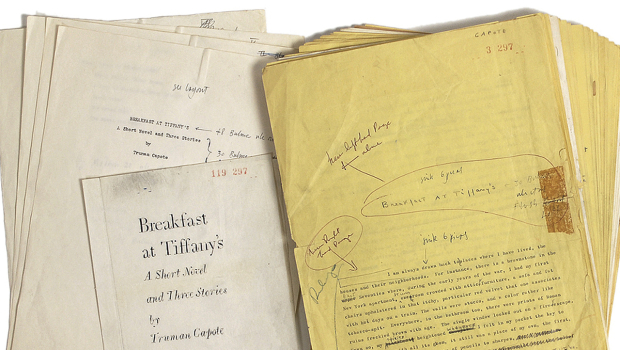 Eugene O'Neill — whose plays include "Mourning Becomes Electra", "Long Day's Journey Into Night" and "Moon For the Misbegotten" — had settled his family in Bermuda in 1925 to try and find peace of mind and to overcome his drinking problem.
But Oona O'Neill was barely a toddler when her father ran off with another woman. She and her older brother, Shane, were raised by their mother at the family home "Spithead" on Harbour Road in Warwick until they later moved to the US.
Her formal education ended at Brearley, an exclusive girls' school in New York City. Accepted by Vassar College, she chose instead to seek an acting career, and following a fleeting appearance in summer stock, went to Hollywood and met her future husband, the British-born comic genius Charles Chaplin.
Although he He was 36 years her senior and thrice divorced, they married when she turned 18 in 1943. Immediately, her father disowned and disinherited her. The marriage, however, endured; she had eight children, and remained with her husband for 34 years until his death in 1977.
Oona O'Neill — sitting — with her mother, brother and half-sister on a Bermuda fishing expedition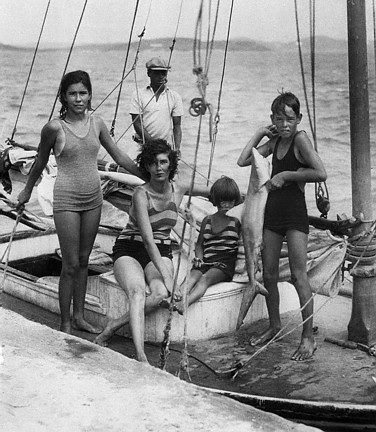 The couple and some of their children famously spent time on the island in 1972 when Charles Chaplin — effectively exiled from the US for his political views in 1952 — made a triumphant return to America to accept the Academy of Motion Picture Arts & Sciences'lifetime achievement Oscar.
The family broke the trip from Europe to California with an extended stop-over in Bermuda.
It was something of a bittersweet homecoming for Oona: "Spithead" had been sold in the early 1950s so her dying mother could afford to pay for medical care and her brother, Shane, raised and educated in Bermuda like her, had left the island to live in New York years earlier.
But nevertheless, she seemed to enjoy introducing her family to her childhood home: the Chaplins took in the major tourism sights, dined at the Henry VIII restaurant on South Shore and visited such out-of-the-way spots as the old Astor Estate on Ferry Reach where Oona had played as child.
Oona O'Neill remained a close friend of Truman Capote's until his death in 1984. He visited the Chaplin family at their home in Switzerland on a number of occasions; she was reportedly delighted by the fact she was widely considered to be Holly Golightly — or at least some aspects of her — by another name following the extraordinary success of both the book and film versions of "Breakfast At Tiffany's."
While "Breakfast at Tiffany's" was not Truman Capote's debut novel — he had received critical acclaim for his book "Other Voices, Other Rooms" a decade earlier — the novella sealed his fame, fortune and future.
When "Breakfast at Tiffany's" was published, Norman Mailer said that Truman Capote was "the most perfect writer of my generation … I would not have changed two words in 'Breakfast at Tiffany's'."
Oona O'Neill died in 1991 at the age of 66. She is buried alongside her husband at a cemetery in Vevey, Switzerland.
Opening scene of the film adaptation of "Breakfast At Tiffany's" [1961]
Read More About
Category: All, Entertainment, Films/Movies