The third day of competition in the 2013 Carifta Swimming Championships saw Bermuda's take our swimming medal tally to five, including one gold medal won in record setting style.
National Swim Coach Ben Smith said, "The third day of a 4 day meet can sometimes be very difficult. With the addition of sweltering heat it would be easy to have our swimmers give up on the third day. Instead we saw some outstanding swims from our young team.
"In the 200 IM we had Emma Harvey swim a good swim but it was evident that she was feeling the effects of 7 swims the previous day. Megan Lau had a good PB in her IM. Alex Pilgrim swam well in his IM followed by Ethan who lowered his time by 4 seconds. Vanessa Esposito was on today as she dropped 5 seconds and is seeded 7th for the finals. Alex McCallum also had a strong IM where he dropped 6 seconds from his PB.
"Next up was the 50 breaststroke and Emma was up again. She was back on form where she dropped almost a second and Megan Lau dropped almost a second also. Ethan dropped 2 seconds in his 50 while Vanessa Esposito dropped 7 seconds to finish 9th. Shannon Botelho lowered his times by close to 2 seconds while Dejan dropped a second.
Emma Harvey in action in Jamaica, photo by Doug Patterson: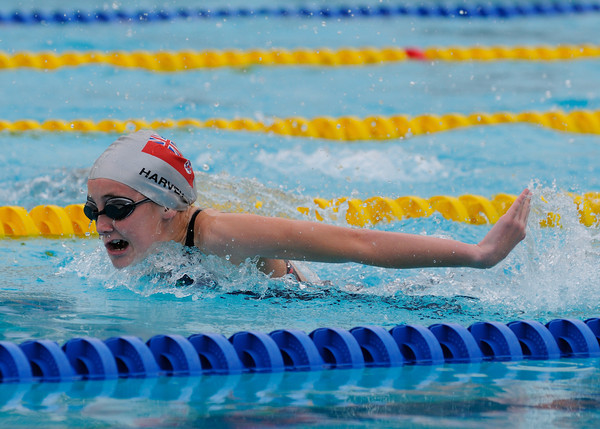 "The 100 free was next and we had several swimmers in the event. First was Maddie Moore and Ashley Irby who were side by side in the heat and battled to the finish. They both made tonight's finals where Maddie is seeded 4th and Ashley 5th. Up next was the boys with Alex dropping half a second and Evan swam a strong 100.
"In the 13-14 Shannon Hassell dropped 6 tenths in her hundred but just missed the finals and Vanessa was just on PB but also was outside of finals. Shannon Botelho had a great swim where he went under 1:00 long course and just missed the AAA time. Jesse Washington was the top seed and after seeing the other swimmers race to 56 he decided to skip to 55. His time of 55.19 has him as the top seed for tonight.
"It also broke the record for Bermuda from Gerri Mewitt of 56.60 from 1989. He looked strong and flashed his pearly smile when he saw the clock. Sophie Froud swam the 100 free in 1:07 which was over PB pace. Dejan unfortunately false started and never got to swim his race.
"We finished the morning off with Josh Irvine who swam the 200 fly. That is a grueling race to swim long course. Josh unfortunately had a technical error that caused him to be disqualified.
Speaking about the finals, Coach Smith said, "We had 4 swimmers in the finals this evening. Vanessa Esposito in the 200 IM, Ashley Irby, Maddie Moore and Jesse Washington in the 100 free.
"First up was Vanessa who had dropped 5 seconds from her best time in the heats to reach this final. She had a very good swim and battled all the way to the end where she lowered her preliminary time by 1 second and moved up two places from 7th to 5th.
"In the 11-12 girls 100 free our two girls put on a great race. Ashley had another strong swim where she finished in 7th position. It impressive for her to reach a final in the 100 free in her first Carifta as that event is so competitive. Maddie pushed into the lead for the first 50 and continued to hold it through 65 meters but when the competitors made their push she couldn't hold the lead but finished strong and captured the Bronze.
"Jesse Washington came to the pool tonight with one purpose and that was a gold medal. He knew that the swimmers he was racing would go faster than they had in the morning so he would have to be ready. His start tonight was not as fast as in the heats which left him behind in the first 12.5 meters but by 25 it was his race.
"He flipped first and the raced for home with the Bermuda contingent cheering him on with their air horns blaring. He broke 55 seconds on the same day that he broke 56 with a commanding lead he hit the wall at 54.71 which lowered his brand new record.
Coach Smith concluded, "It was extra sweet with the new Minister of Sport Wayne Scott in the stands cheering along with the team. What a great night of racing. You could feel the energy on the team bus as we returned to the hotel."
You can view Coach Smith's review of the first day of competition here, the second day of competition here, and all our coverage of the Carifta Games here.
Read More About