The heroine may be fictional but the settings, moods, fashions and excitement of both the island and the amateur Wimbledon championship as they were a half-century ago are all historically accurate in the new romantic tale "The Tennis Player From Bermuda."
The recently published novel "The Tennis Player From Bermuda" takes the form of a memoir by pseudonymous author Fiona Hodgkin in which she recounts the story of her short but spectacular career as an amateur Bermudian tennis player in the early 1960s — as well as her complicated personal life which momentarily distracts her from her focus on the championship.
"The Tennis Player From Bermuda" captures the long-lost romance and intimacy of amateur tennis at Wimbledon half a century ago..
The American author — a tennis buff and lawyer who spends part of the year on the island — researched the historical background to the novel at the Bermuda National Library and at the archives of the All England Tennis Club in the UK.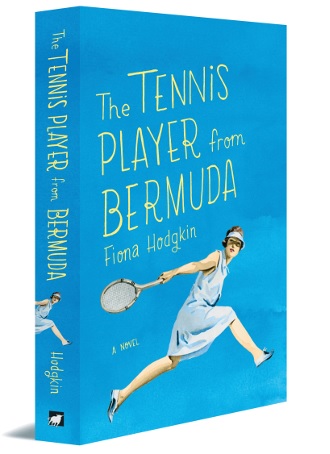 Published by the UK's Matador Press and now available in local bookstores or from online outlets, "The Tennis Player From Bermuda" has received positive reviews from critics and readers.
"The Tennis Player From Bermuda" review by June J. McInerney, literary blogger
"Written as a fictionalised autobiography set in both Bermuda and England in the early 1960s, Fiona tells of perfecting her tennis game under the tutelage of former professional player Rachel Martin, with the dream of playing in the Championships at the All England Lawn Tennis and Cricket Club in Wimbledon, England. She finally gets her chance when an unexpected telegram arrives inviting her to play–amateur status–in the Wimbledon 1962 qualifying three-round tournament at Roehamption in June.

"Hodgkin's novel is not only a great story, but is also a compendium of juicy historical tennis tidbits, terms, and techniques, with blow-by-blow descriptions of play action that puts the reader smack-dab on the courts in the midst of it all. Although, some of her explanations may be a bit too intricately complex and technical for the average public court duffer; even I had to draw a diagram or two to follow some of the more complicated rallies. Be that as it may, her writing style is fluidly conversational, written from a reminiscing reflective perspective when Fiona is in her very late 60s; almost as if she was court-side sipping an after-match gin and tonic confidentially telling her story to a close friend. And while this is, indeed, the story of young women striving to compete on the international level, it is also a touchingly poignant coming-of-age love story. We watch Fiona grow and mature as a tennis player, as well as watching her grow and mature into blossoming womanhood, coming to grips with what it really means to be an adult responsibly in love [no pun intended].

"I also thoroughly enjoyed Hodgkin's almost touristy guidebook set-in-dialogue descriptions of Bermuda, upon which most of the action takes place. She sprinkles her narrative with not only historical facts about the island, but also with salient facts about its social norms, traditions, and customs of the mid-Twentieth Century. These last are delightful to read and add a very real, humanistic quality to the overall plot line. Fiona, in fact, as both author and protagonist leads one to almost believe that she was, is a real person who actually did play tennis in 1962, really making it to Wimbledon–although the extent player rosters I researched do not, of course, list her as a competitor. I also most enjoyed the meticulous descriptions and insider information of and about Wimbledon and its famous Centre Court. I felt as if I was, so convincingly realistic is Hodgkin's writing.

"This is a wondrously creative and richly rewarding read. It is almost like physically playing a real match out there on the competitive courts of literature. Except that everyone, author, heroine, and reader alike, are all winners."
Read More About
Category: All, Entertainment