For ten talented young Bermudian musicians the opportunity to develop their skills and perfect their craft comes this summer. PlayList Management [PLM] is conducting their annual Developing Artist Program [DAP] which offers our local student musicians/artists the chance to work alongside professional musical artists and producers for a full week in Atlanta, Georgia.
Jahroy Richards, Delijah Symonds, Chiante Roberts, Dylan Hollis, Emma Keane, Chinyere Nwasike with Teen Rap Sensation Issa [center] during DAP 2012.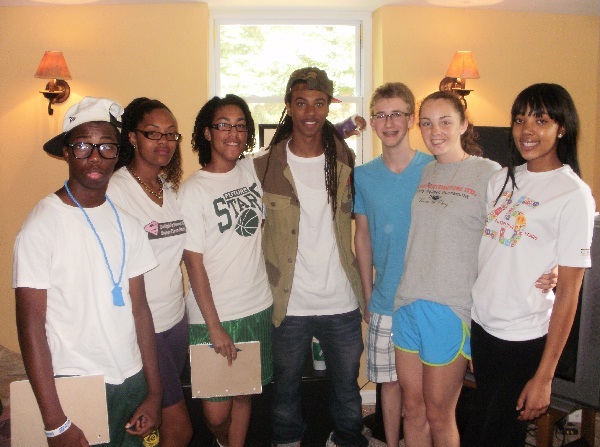 "Many of Bermuda's young artists are unfamiliar with the 'behind the scenes' aspect of the music industry. PLM provides an opportunity for our budding musicians to be exposed to the inner workings of all aspects of this profession long before they reach the critical point of a career decision. Most musicians only see the performance aspect and don't realize the amount of energy it takes to make their performance successful," stated Theresa Minors, PLM CEO.
"We are excited about being able to provide them with the chance to work alongside professional artists who have dedicated their lives to their craft. They will receive instruction at Cre8tiv Spaces, Atlanta's #1 artist development company as well as gain knowledge from professional producers, managers, independent labels, and entertainment lawyers. This intensive covers types of industry contracts, music production knowledge, networking opportunities and experience with various recording studios and producers in the Atlanta area. This is an exciting opportunity for our students."
Their schedule is jammed packed with vocal/music instruction, production sessions, and even a special artist "Q&A" session. Last year, the students had the opportunity to meet & work with members of the Original P [Parliament Funkadelic members], ASCAP Songwriter/Producer Marqueze Ethridge [TLC's Waterfalls] and Teen Rap Sensation, Issa.
An online blog has been created to share their daily activities, where the students will share their thoughts, videos, pictures and more for all to see.
PLM is encouraging individuals, as well as companies, who may wish to help sponsor a student to contact Mr. David Minors at pr.playlistmanagement@gmail.com. All funds received are utilized for any specific student chosen for their instructional cost only.
The students will be performing locally in preparation for the trip in July, on Sunday, May 5th, 2013 and Sunday, June 2nd, 2013 at COH's Summer Sundays in the Park Series. Additionally, they are hosting a Fundraising Showcase at Flanagan's Outback Sports Bar on May 14th, 2013 where donations are welcome.
The students this year are:
Berkeley Institute
Kiana Madeiros [Vocals]
Precious Cooper [Vocals]
Marquedelle Rodriguez [Producer]
Enrico Escolastica [Producer]
Shavonte' Dill [Vocals]
Warwick Academy
Tyler Cameron [Trumpet]
Te-che' Minors [Producer/Vocals]
CedarBridge Academy
Rashae Bean [Vocals]
Rashun Bean [Vocals]
Rickai Burrows [Vocals/Producer]
Read More About
Category: All, Entertainment, Music, News