[Updated] A collision on the Causeway today [June 10] has resulted in traffic delays, with commuters having to wait on both sides while emergency personnel attended to the scene.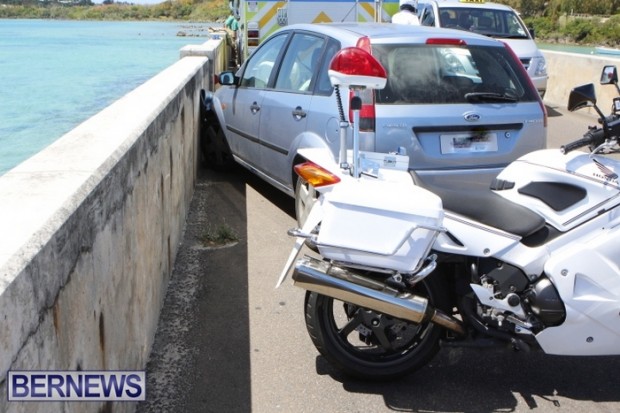 It appears it was more than one vehicle was involved, and at least one person was taken away to receive medical treatment for what is understood to be non life threatening injuries. As of 11.45am the car is still in position, and traffic is creeping along in a one lane format being controlled by police.
Update 12.20pm: The damaged car has been removed, and traffic is now flowing as normal
Update 4.42pm: The police said the incident involved three vehicles; a car, truck and a motorcycle. The full police statement is below.
Around 11am on Monday, June 10th police and first responders attended a reported three vehicle collision on the Causeway in St. George's.

It appears that a car, a truck and a motorcycle collided. The car driver, a 60 year old Pembroke man, was apparently not injured but was taken to King Edward VII Memorial Hospital via ambulance for medical assessment.

The motorcycle rider, a 63 year old Pembroke man, sustained relatively minor injuries which apparently did not require hospital treatment. There were no other injuries reported. All three vehicles were damaged.

Traffic flow on the Causeway was temporarily reduced to one lane but subsequently returned to normal.
Read More About
Category: Accidents and fires, All, News