[Updated with photos] The U.S. Coast Guard Cutter Eagle arrived in Bermuda today [June 29] as part of its 2013 cadet summer training deployment. Docked in Hamilton, the 295-foot tall ship is the only active square-rigger in U.S. government service.
It was constructed in 1936 in Germany and originally used by the German Navy. The United States took the Eagle as a war reparation following World War II.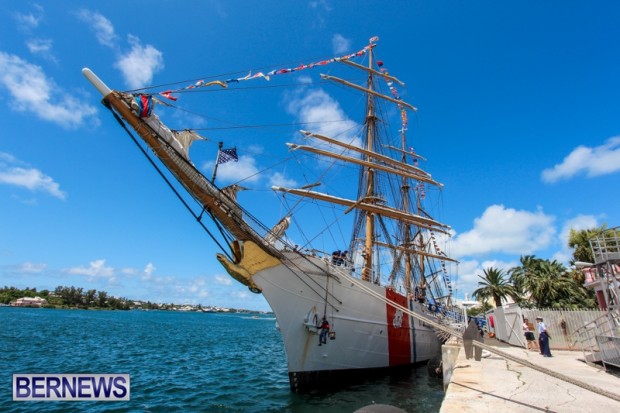 With more than 23,500 square feet of sail and six miles of rigging, the Eagle has served as a classroom at sea to future Coast Guard officers since 1946, offering an at-sea leadership and professional development experience.
A permanent crew of six officers and 55 enlisted personnel maintain the 77-year-old ship year round. They provide a base of knowledge and seamanship for the training of up to 150 cadets or officer candidates at a time.
While in port, cadets from the Eagle will engage in several community projects with Habitat for Humanity Bermuda and Keep Bermuda Beautiful.
According to their schedule, prior to her stop in Bermuda the Eagle visited St. Martin, Aruba, Guantanamo Bay and Florida. Following her call in Bermuda, the Eagle will visit the island of St. Pierre located off the coast of Newfoundland.
Click photos to enlarge:
Read More About