A mural featuring five Bermudian football stars — Clyde Best, David Bascome, Shaun Goater, Nahki Wells and Kyle Lightbourne — located on the side of Jamaican Grill on Court Street is in its final stages of being completed.
As one of Britain's first black football stars, Clyde Best was regularly targeted with racist chanting from the terraces, but eventually became a fan favorite.  Considered not only a world class footballer, but one who paved the way for the black footballers of today, Mr Best played 218 games and registered 58 goals for West Ham over 7 seasons between 1969 and 1976.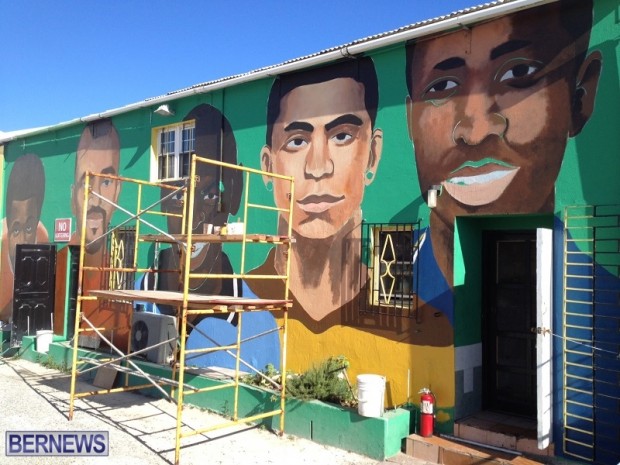 David Bascome started his First Division soccer career at the age of 16 with North Village Rams. At 20 years of age, he signed his first professional contract with the Harrisburg Heat of the National Professional Soccer League, USA.  Now retired as a player, he spends his time coaching and giving back.
Shaun Goater is most well-known for his time at Manchester City, where he scored over 100 goals between 1998 and 2003, finishing as the club's top scorer for four consecutive seasons. Mr Goater — who retired in 2006 — represented Bermuda 36 times, scoring 32 goals.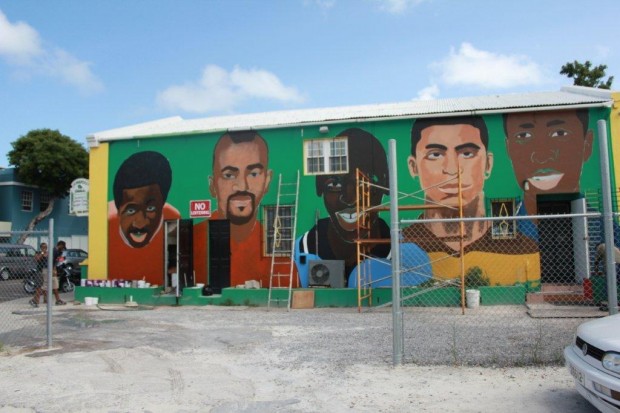 Kyle Lightbourne played for the PHC Zebras before moving to England to play for Scarborough at the age of 23. He played 21 times for Scarborough before joining Walsall in September 1993. Mr Lightbourne moved to Coventry City, and then  moved to Stoke City where he scored 10 goals in 52 appearances.
Nahki Wells, the only still active player featured on the mural, is the first Bermudian footballer to score at the iconic Wembley Stadium.  The 23-year-old will continue his career with Bradford City this upcoming season.
Update: The mural — which was painted by local artist Manuel Palacio — was organised by N.E. Hamilton EEZ Officer Roxanne Christopher in connection with the Community Action Week Volunteer Programme hosted by Habitat for Humanity.
Read More About