Digicel Bermuda announced that two Digicel sponsored junior sailors have qualified for the North American Championships due to set sail today [July 5] at the Royal Bermuda Yacht Club.
Digicel Squad members Micah Thomas-Raynor and Tre Maxwell will join Bermuda's top junior sailors for the opportunity to represent their island home on its waters this weekend. The Bermuda fleet of 20 will compete on the Great Sound against 160 other racers from 19 countries.
"This is a great accomplishment for Micah and Tre and we are very excited to have played a small role," comments Wayne Caines, CEO of Digicel Bermuda. "Their success is the direct result of hard work and dedication to a sport that they're keen in advancing."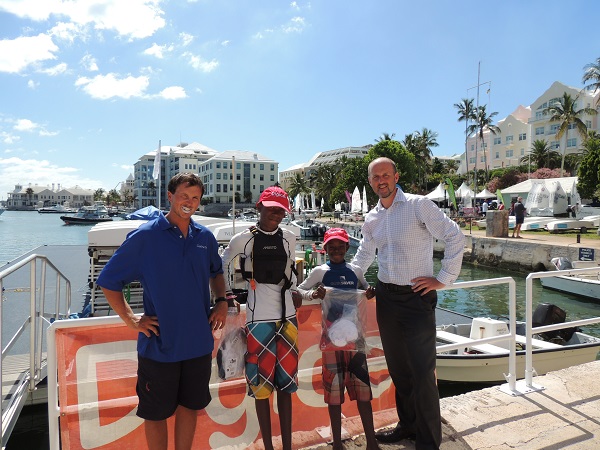 For over a year, Digicel has supported the Digicel Squad – a small group of Optimist sailors who train at the RBYC Sailing Academy under the coaching of RBYC Sailing Director Tom Herbert-Evans, Advanced Racing Coach Sean Evans and Bermuda's Senior Coach Paul Doughty.
Once the boys completed the Waterwise Scheme, Digicel's partnership with the RBYC Sailing Academy allowed the now 13 year old Tre Maxwell and 11 year old Micah Raynor-Thomas to move into the RBYC's coaching programme. The pair alongside the rest of the Digicel Squad travelled to the Orange Bowl Regatta in Miami last December to compete in their first international race.
"We are delighted to share this achievement with Micah and Tre," adds Sales Director of Digicel Bermuda, Shane McDonnell. "These are two young Bermudians who have only been sailing for such a short period of time –18 months, yet now have an extraordinary opportunity to represent their country in a race of this magnitude."
Coach Paul Doughty explains, "This is one of those beautiful Bermuda stories. These kids were given an opportunity, qualified in the Top 20 Bermuda Trials and made all of our hard work so very worthwhile. Sailors from all over the World have travelled to Bermuda to take part in this Championship, which will be a close fought Regatta with some extremely tough competition. The very fact that Micah and Tre have qualified for such an event is something for them to be immensely proud of."
"With Digicel's help, the boys were able to get a taste of international competition last year at the Orange Bowl in Miami, states RBYC Sailing Director Tom Herbert-Evans. "Optinam will be a huge step up for these two sailors, but given the right conditions they have a chance to surprise a few people. And, let's hope they do!
At RBYC we believe in encouraging opportunities for as broad a section of the community as possible; "more and better sailing" is our motto. This week our summer programme started and our dock has been filled with the next group of youngsters looking to follow in the footsteps of so many before them.
Tre and Micah are shining examples of what can be achieved given the right attitude and approach. I will feel very proud and no doubt slightly emotional watching Tre and Micah go out to sail in the first race on Friday morning."
RBYC Sailing Committee Member responsible for Junior Sailing, Ben Nicholls comments, "Digicel has displayed a very hands-on involvement with the Digicel Squad throughout the year and the fact that Tre and Micah are now competing on the World stage is simply fantastic. Typically, success in sailing takes hard work and dedication from the sailors themselves, Club coaches and parents. But, in this regard, all could not have been achieved without the amazing support from Digicel. This life-changing opportunity was offered and the boys have gratefully accepted it. Good luck Tre and Micah, you deserve to have a great experience."
Read More About