Ascendant Group said its Professional Development Programme for Graduate Engineers has been reviewed by the Institution of Mechanical Engineers [IMechE] and Institution of Engineering Technology [IET].
IMechE and IET are prestigious, international engineering institutions that provide a quality-assured, approved route for graduate engineers to complete their professional development. Ascendant Group's programme has been re-accredited by IET with immediate effect through 2016, and recommended for re-accreditation by IMechE with the institution to affirm the decision.
The four-person review panel that visited Ascendant Group comprised: Howard Canning, CEng, FIMechE; Panel Chairman Steve Dean, CEng, FIMechE; Chris Crane, IEng, FIET; Richard Balestrini, CEng, MIET. [Back, left to right] Abayomi Carmichael, MBA, CEng, MIET, Ascendant Group Vice President & Certified Professional Development Advisor, and Michael Daniel, CEng, MIET, AMIMechE, Ascendant Group Senior Vice President and President & Chief Operating Officer, AG Holdings Limited.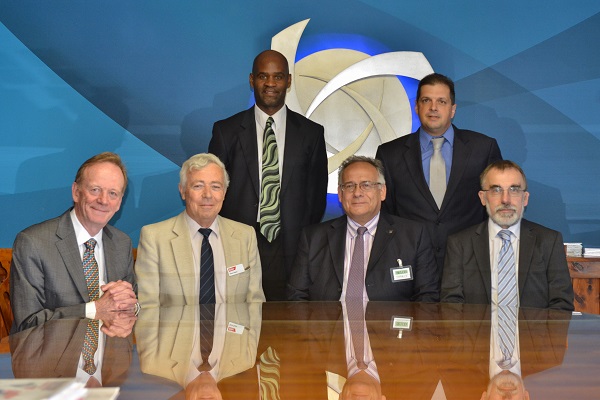 Accreditation, which has now been granted to Ascendant Group, was first granted to BELCO in 1997. The company's programme is reviewed every three years to ensure that it meets the highest standards and that qualified staff and resources have been committed to the professional development of engineers.
Ascendant Group's Engineer-in-Training [EIT] programme helps to attract focused, committed engineering graduates, enabling development of a highly skilled, professional and "home-grown" engineering talent pool. Over the years, most of the Chartered Engineers who have completed the programme have remained within Ascendant Group, but several have moved on to other employment in Bermuda.
Abayomi Carmichael, is Ascendant Group Limited's Corporate Treasurer & Vice President, Risk Management & Analysis, as well as Certified Professional Development Advisor.
He said, "We are very proud of our current, diverse group of EITs, and pleased that IMechE and IET have favourably reviewed our programme. Accreditation is invaluable to us, as it demonstrates our commitment to maintaining the highest standards, whilst ensuring that we will always have Bermudian mechanical and electrical engineers to manage our operations and plan for the Island's energy and infrastructure future."
Mr. Carmichael added, "In fact, we extend our service to the Island and to the whole Caribbean region by volunteering to assist qualified engineers, who are working to attain Chartered Engineer status with IMechE and IET."
Five men and women who are employed by Ascendant Group operating companies are currently developing their knowledge and skills to earn Chartered Engineer [CEng] designation. The EITs are: from iEPC Limited, Stephanie Adderley [mechanical] and Nigel Burgess [electrical]; and from BELCO, Michael Sinclair [mechanical/electrical], Donald Marwick [mechanical] and Nadir Wade [electrical].
The EIT programme is essential to ensuring that Bermuda continues to have local engineering expertise to support the Island's energy and infrastructure development.
Read More About