Tessi's Highway has been a long and winding road, from his roots in the Azores to Bermuda, North America and Scotland. Now the life story of dentist, Government Minister and campaigner Dr. Clarence 'Tessi' Terceira  has been recalled in his autobiography, to be launched at a special invitation event at the National Museum in Dockyard on Saturday at 6pm.
[From left] Dr. Terceira as a baby with brother Stanley and sisters Audrey and Clara, Celebrating an election win with first wife Mary, Captain of the Saltus Grammar School soccer team [with ball] in 1947.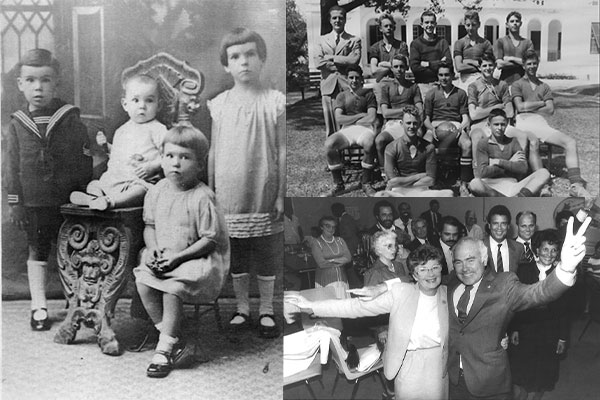 "Tessi's Highway: My Life's Journey" even includes a real highway – the dual carriageway on East Broadway, created during his time as Minister of Works & Engineering in the then-UBP Government, and dubbed 'Tessi's Highway'.
But there were the odd bumps in the road – the reason offices occupy the Crow Lane building near the roundabout today is that the two ladies who owned it refused to move and allow the demolition of the building, forcing architects to redesign the plan to allow the new road to run either side of the building.
His rationale for acting to upgrade a two-lane road with a middle overtaking lane –  a known accident black spot – despite fierce opposition, could serve as his political raison d'etre.
He writes, "Because I took so much withering criticism at the beginning, I have often pondered on what made me so determined to continue. I think it involved the following philosophy: When you are convinced within yourself that what you are doing is practical and even morally right, then you must proceed."
Dr. Terciera, the grandson of immigrants from the Azores, was born in 1927 and subject to the prejudices of the day, which discriminated against those of Portuguese descent as well as black people.
And that was one of the driving forces that made him challenge discrimination and prejudice from his youth in the 1940s and 50s as a dental student in Dundee, Scotland, to his days in politics.
He recounts the tale of challenging two white South African students at St Andrew's University who had disrespected a fellow student from Nigeria, even forcing a debate on the issue on the student union.
He sat on the first executive of the United Bermuda Party, which was formed in 1964, a year after the Progressive Labour Party and he later served as Pembroke West MP for the party for 13 years after winning a by-election in 1984.
The book recounts some of the most fascinating political episodes of the day – from leadership crises in the UBP to the decision by Premier Sir John Swan to stake his premiership on a referendum on independence.
And he relates his role in the so-called "burger wars" that saw McDonalds and other fast food restaurants banned from Bermuda.
In between, he met British Prime Ministers Margaret Thatcher and John Major, as well as Princess Margaret and President George Bush, all of whom who feature in the book.
The book was designed by Kaleidoscope Media Ltd. and printed in the United Kingdom.
"Tessi's Highway: My Life's" Journey is on sale at Brown & Co and Bermuda Bookstore in Hamilton and the Book Cellar in St. George's, price $36.00. Dr. Terceira will be personally signing copies at Brown & Co. on December 6th from 5:00-7:00 p.m. and December 7th from 11:00 a.m. to 1:00 p.m.
Read More About