The Bermuda Football Association has paid tribute to Uthmani Talbot, who was killed in a road traffic collision over the weekend, becoming the ninth road fatality of the year.
An accomplished young man, Mr Talbot was the recipient of multiple scholarships. The 24 year old attended George Mason University, completed his studies in accountancy and returned to Bermuda to pursue a career.
A 2007 profile on ABIC's website said that while at Berkeley, Mr Talbot was a member of the Student Council, the Debate Team, a Reporter for Youth News, and participated in the Seniors 2 Seniors Technology Program which teaches computer skills to seniors.
Mr Talbot is pictured below at scholarships presentations in 2007 and 2010: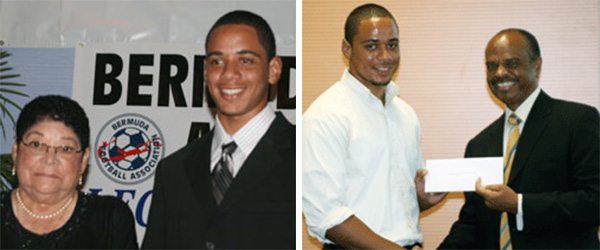 BFA President Larry Mussenden said, "On behalf of the Executive, staff, our member Clubs and the family of football in Bermuda, we extend our sincere condolences to the Talbot family and the X-Roads Football Club family on the passing of Uthmani.
"We are well aware that Uthmani was a keen and talented football player who hailed from an equally talented football family. He was able to represent his community and club with immense pride.
"Additionally, we are honoured that he was the first ever recipient of a BFA Legends Scholarship in honour of Legend Rueben Alias for $15,000 for each of the academic years of 2007 and 2008," Mr Mussenden continued.
"Other recipients in 2007 were Kenette Burgess, Waynesha Bean, Shantel Deshields, Matthew Madeiros and Clyde Darrell – all football scholars alike.
"We were all proud that Uthmani completed his studies in accountancy and returned to Bermuda to pursue a career as a qualified accountant.
"More recently, in some meetings with the BFA, we were pleased to see that Uthmani was involved in the administration and future development of X-Roads.
"Please take warm comfort in the knowledge that we all know that Uthmani made you very proud.
"We are all saddened by the passing of Uthmani and know that he will be a huge loss to you. We trust that he will live on in our memories and in other kind deeds done on his behalf.
"Please know that you are in our thoughts and prayers at this time," concluded Mr Mussenden.
The collision occurred at around 3:20am on November 30th on Harrington Sound Road, 400 metres east of Harrington Sound Primary.
Read More About
Category: Accidents and fires, All, News