A new philanthropic institution backed by several million dollars in support from the donor community launches this week, one year after its creation.
The Bermuda Community Foundation [BCF] is a grant-making organisation designed to create and manage funds for the good of Bermuda. Its purpose will be to donate money to assist nonprofit organisations in carrying out their work.
With pledges of well over $8 million, the BCF is set up to make grants in the near future – but it will take time to grow.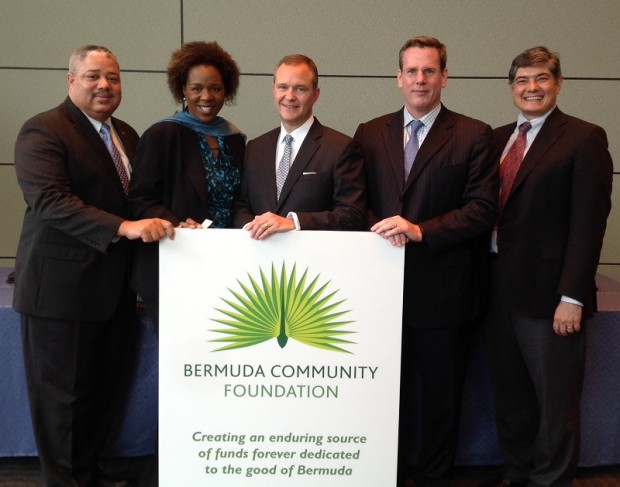 Chairman of the Board Peter Durhager said, "The primary purpose of the BCF is to create endowments that will act as a sustainable funding source for nonprofits long into the future.
"Right now, the main focus of our work is to build the funds and help them to grow. In the past, nonprofits have had to operate with a "raise it and spend it" mentality. Given how vital the nonprofit sector is to the basic functioning of Bermuda, that's not good enough.
"This is intended to enable a sustainable source of funding for their work in perpetuity."
BCF founding investors include The Atlantic Philanthropies and RenaissanceRe. Bloomberg Philanthropies and the XL Foundation also made key contributions.
Lead funder The Atlantic Philanthropies has made a pledge of $6 million to Bermuda with its gift to the BCF.
Christopher G. Oechsli, President and CEO, said, "Bermuda is the first home of The Atlantic Philanthropies; it's a community where we are proud to have made a significant philanthropic investment over the past three decades.
"We have felt a great sense of responsibility to Bermuda and its people, and are pleased to help launch and support a community foundation that embodies Chuck Feeney's spirit of giving and helps ensure local organisations have a steady and sustainable source of future funding."
Kevin O'Donnell, President and CEO of RenaissanceRe Holdings Ltd, another lead investor, said of his company's support for BCF, "RenaissanceRe has a 20 year history of giving back to the community and improving the quality of life in Bermuda.
"We are proud that our endowment to the BCF continues to reflect our commitment to the island and will help to establish a sustainable source of funding to serve Bermuda for many years to come."
Patrick Tannock, Managing Director and President of XL Insurance Bermuda Ltd, and President of the XL Foundation, said, "The XL Foundation is focused on making a difference in the community. We are supporting the development of Bermuda Community Foundation because we believe that it will play an increasingly critical role in sustaining Bermuda's nonprofit sector."
XL has donated about $50 million to the community since its inception almost 30 years ago.
Managing director and CEO of BCF Myra Virgil said, "The Bermuda Community Foundation will increase awareness and understanding of the need for sustainability in the nonprofit sector. BCF will also encourage these charities to plan for and invest in their own long-term financial health; it is essential to have a viable, vibrant nonprofit sector to make our community whole.
The Bermuda Community Foundation is a grant-making organisation that grows and manages charitable endowments, the investment returns of which are donated to nonprofits and community projects. Donors of all types, including families, businesses, giving circles, clubs, and nonprofit agencies themselves establish funds at the community foundation that are managed much like pension funds, accounted for separately but invested collectively.
This arrangement gives the foundation and its donors access to good investment management services, better rates, and better returns that then go to community-based groups, services, and causes that they care about.
BCF's Board is comprised of individuals respected for their business, financial, and philanthropic experience. Joining Mr. Durhager are Michael Brace, Senior Adviser of Wealth Management at Capital G Bank Ltd, Brian O'Hara, former Chairman of XL Capital Ltd [now XL Group], Amanda Outerbridge, Director of Philanthropy for the XL Group, Michael Schrum, CFO of HSBC Bank of Bermuda Limited, Nikkita Scott, Director of Counselling and Student Activities for Bermuda College, and Myra Virgal, former head of grant-making in Bermuda for The Atlantic Philanthropies.
Read More About